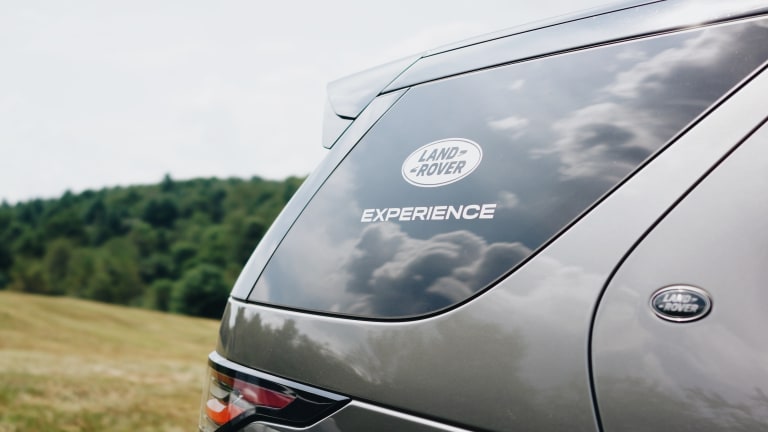 Getting a crash course in Off-Roading 101 at the Land Rover Experience
We take a look at an essential for any Land Rover owner.
HDC, Terrain Response 2, approach angles, departure angles, wading depth. Those terms might not sound important to most Land Rover drivers, but they should. Sure, most Land Rovers keep their feet firmly planted on asphalt these days, but you better believe that off-road heritage that put the company on the map is alive and well. 
We recently made our way to the Land Rover Experience in Asheville, North Carolina to get acquainted with their SUVs in their natural habitat. Surrounded by the Blue Ridge Mountains and hidden amongst the lush greenery of the 8,000 acre Biltmore Estate is a comprehensive, terrain-rich playground where experienced instructors put the latest models to task to show off what a Land Rover can really do. 
The Experience team threw us in the seats of the brand new Discovery and then proceeded to take us through trails where features like Terrain Response 2 and Hill Descent Control ate up rutted trails, easily crawled up rocks, and smoothly traversed across muddy waters. Our instructors carefully guided us through the designated areas and let the Discovery's off-road technology do the rest. 
Most impressive is that each Discovery smoothly managed the trails completely unmodified using the same exact tires you would find equipped at the dealership. And that goes for any model used on the trail, no added equipment needed, just good and careful coaching and Land Rover's trademark capabilities. 
The experience is definitely an essential for any Land Rover owner who's been curious about what their cars can do and how to use them properly in off-road scenarios. They even open up the courses for owners to bring their own rides a few times a year. 
Programs are available are available in one or two hour experiences or half/full-day adventures. Land Rover has four Experience Centers across North America with locations in Carmel, CA, Asheville, NC, Manchester Village, VT, and Montebello, Quebec, Canada.
From $275, landroverusa.com