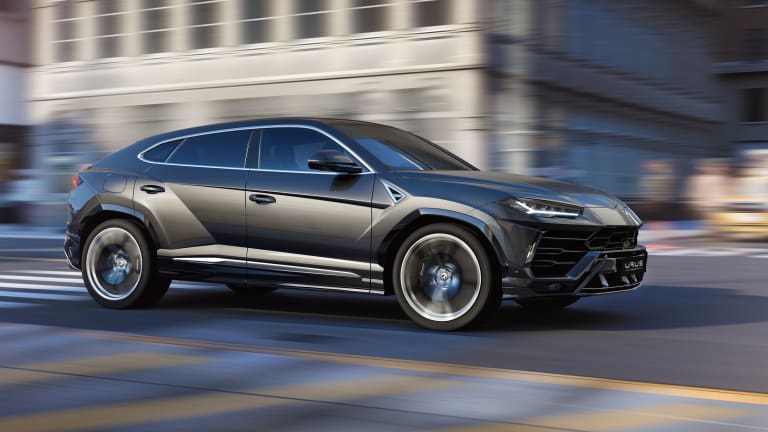 Lamborghini's Urus is being called the world's first "Super Sport Utility Vehicle"
Their first SUV in over thirty years.
A Lamborghini SUV might be a foreign idea to most, but car fans will know that the company's first attempt at the idea with the hulking LM002. The new Urus is a different kind of sport utility vehicle that is ready to get dirty, but is also a hyper-fast speed machine like its supercar counterparts. And just like those cars it's exterior is muscular, aggressive, and coupe-like profile is 100% Lamborghini. 
When it comes to speed, the Urus can get from 0-60 in 3.6 seconds and it will reach a top speed of 189 mph. This power comes from a 650-hp, 4.0L V8 that is accompanied by an 4WD system with active torque vectoring and four-wheel steering. Transmission is a electro-hydraulically controlled planetary 8-speed automatic gearbox that delivers short low gear ratios and longer high gears. 
Though it's the lowest SUV in the market, the Urus is more than capable off the asphalt with adjustable driving modes for snow, dirt, and slippery surfaces. Those modes also raise the car to a higher ground clearance for off-road driving. Since it's an SUV, you can probably expect this to be the most comfortable Lamborghini ever with a plush leather interior, 12-way adjustable seats, and an optional 18-way seat with massage and ventilation. 
As for infotainment, you've got dual touchscreens that operate everything from climate to navigation and their smartphone interface is compatible with Apple CarPlay, Android Auto, and Baidu-Carlife in China. An eight-speaker sound system is standard and at the top-end you can spec a 1,700 watt Bang & Olufsen 3D sound system with 21 active speakers.