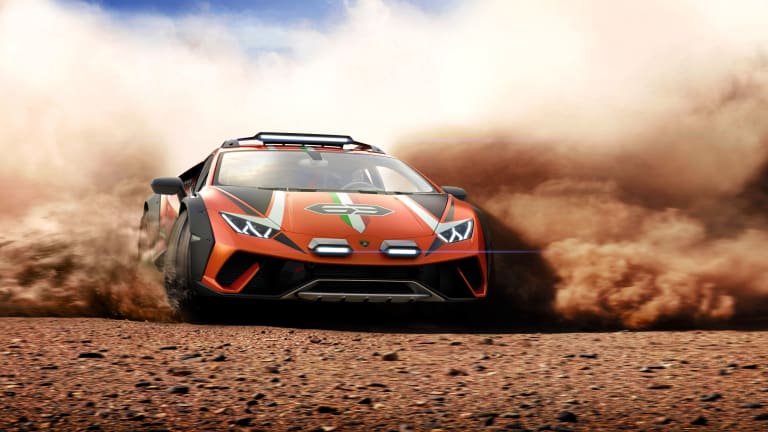 Lamborghini reveals the Huracán Sterrato Concept
We'd take this over an Urus in a heartbeat.
Oh, you already know Lamborghini dealers are getting flooded with calls about this one. The company has taken what they've learned from the Urus and applied it to an off-road concept called the Huracán Sterrato. Based on the Huracán EVO, this supercar turned off-roader keeps the 640 hp, 5.2L V10, which is equipped with the EVO's LDVI system that's been specially tuned for off-road driving. 
The exterior has received a number of upgrades to make it a bit more off-road friendly with a higher ground clearance that is heightened by almost two inches allowing for an improved front approach and departure angle. The wheel track is widened at the front and rear by a little over an inch and it's fitted with baloon tires with 20-inch wheels and wide body wheel arches with integrated air intakes. 
As you would imagine, the Sterrato gets a whole host of underbody reinforcements and body protection. Upgrades include a rear skid plate that doubles as a diffuser, a front aluminum skid plate that covers aluminum reinforcements integrated into the front frame, aluminum-reinforced side skirts, composite bodywork with stone-deflecting protection around the engine and air intakes, carbon fiber and elastomeric resin mudguards, and an off-road LED lighting package. Other details include a lightweight aluminum roll cage, four-point seatbelts, carbon bi-shell sport seats, and aluminum floor panels.