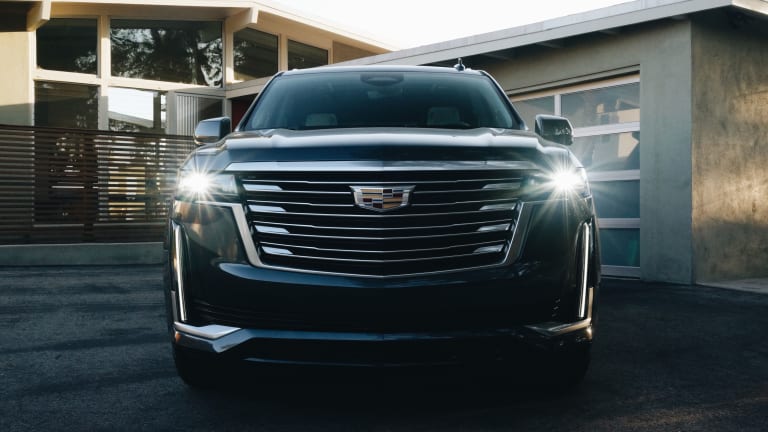 Killer App | Cadillac Super Cruise
The future of driving is here and it's not in a Tesla.
The Cadillac Escalade has been around for two decades now and since then the market has saturated itself with more than a handful of ultra-luxurious SUVs. No longer content with letting its competitors hog all the spotlight, Cadillac went big with their new Escalade and if you ask us, it might be the ultimate luxury SUV. The Escalade has always been a big brute of a vehicle and that hasn't changed in the latest generation model. It's massive and imposing and it wears a grille that could devour its rivals in one bite. 
In recent years, the Escalade has had its direct rival, the Lincoln Navigator, steal some of its thunder with a dramatic redesign the upped the stakes in every regard. The only thing is that Cadillac had a little trick up its sleeve for the next-generation Escalade. They gave it Super Cruise, a hands-free driving experience that is compatible with over 200,000 miles across the US and Canada. It is the only hands-free system currently on the market with only two competing manufacturers that are set to bring their own solutions to the market this year. 
The system is easy enough to use. Once you're on a compatible road, you hit a button and the car takes over while a green indicator light in the steering lets you know that the system is enabled and operational. We tried it on a 400+ mile trek from San Francisco to LA and it worked as intended. The car took turns smoothly on its own, braked when necessary, and slowed to a halt in stop-and-go traffic. The best part is that Super Cruise is hands-free. Super-Cruise uses head-tracking to make sure that you're paying attention to the road and it will alert you in case you become too distracted to take back control of the wheel. It will also slow down and eventually stop in an emergency and it will contact OnStar to make sure that you're ok. 
Though it won't take you from point A to point B entirely on its own, the system is incredible for long road trips where a lot of freeway and highway driving is involved. Now the big question: is it scary? It obviously takes a little getting used to having an entire car drive itself on the freeway but once you feel it in action, that hesistancy slowly goes away as you see just how well the system works. In the newest version of Super Cruise, the car can safely merge automatically with just a push of the turn signal stalk. It even has a Safety Alert Seat that vibrates in the event that you need to take the wheel or if Super Cruise is no longer available. 
Couple this with features like the 36-speaker AKG audio system and the heated/cooling massage seats, and you've got a first-class lounge on four wheels with a virtual chauffeur. We haven't even talked about the massive 38-inch curved OLED dashboard. All in all, it's the most advanced Escalade yet and if we had to choose, it's the Escalade by a mile. Yes, we would take it over any of its European rivals. It's that good.
The future of Super Cruise  
Super Cruise is amazing but it wouldn't be any fun of it was just exclusive to the Escalade. The feature will be available in the upcoming CT4 and CT5 (above) sedans as well as other full-size SUVs and Trucks in the GM family. There's even a rumored "Ultra Cruise" feature that has been reported that will take the hands-free technology into the city, taking the autonomous system to another level. 
Super Cruise is now available in the 2021 Escalade and is available as a $2,500 option. 
---