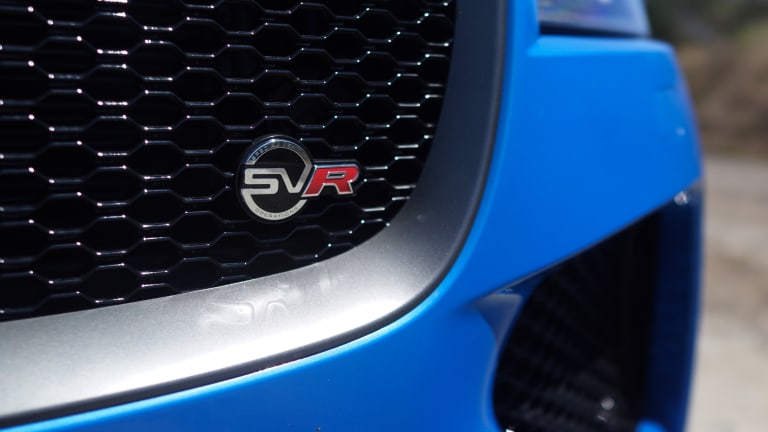 Jaguar's F-PACE SVR is a thunderclap of British muscle
550-hp wrapped in a versatile daily driver.
Whether it's AMG or BMW M, there's a specific list of ingredients that are required to wear those badges. These ingredients include a big, powerful engine, a variety of styling enhancements, and an endless array of aerodynamic upgrades. When a Jaguar wears an SVR badge, it definitely sticks to that recipe but the overall execution is much more refined and devastatingly handsome. One of the best examples of this is the F-PACE SVR, a supercharged monster of an SUV that uses the same V8 as the F-TYPE R. 
Hit the pedal and you've got 550 hp and 502 lb-ft of torque, allowing for a 0-60 time of 4.1 seconds and a top speed of 176 mph. Moving that fast requires some wizardry in the aerodynamics department and as you can see from the front end and the sides, there's quite a bit being done to assist with cooling and overall stability. It's also one of the most elegant displays of aerodynamics we've ever seen on a performance vehicle. 
The intakes are large and there are vents and scoops to be found but it all feels purposeful and considered. View the car from the side and you begin to see just how well all those design choices come together as a whole. From the extended spoiler to the lower body sides and the massive wheels, everything flows and complements each other perfectly. 
The cabin of the car echoes the performance-focused styling of the exterior and has a coupe-like feel with slimline sport seats while still offering the space and practicality of an SUV. Once you're on the road, the F-PACE SVR is a solid daily driver and its versatility is undeniable. The brutality of the V8 is ready to go whenever you need it and that'll become immediately evident to your ears with the Variable Valve Active Exhaust System that sends a guttural roar through the aluminum quad tailpipes. 
The car is also equipped with upgraded shocks and a rear Electronic Active Differential to improve handling and the large 15" front and rear brakes helps to keep all that power in check. Relax your foot off the pedal and you've got a comfortable daily driver with the added versatility of all-wheel-drive and an array of driving technologies that will keep the car in control on a variety of road conditions. 
When it comes to in-car technology you've got all the usual suspects and then some. A 380-watt Meridian Sound System comes standard and you've got Wi-Fi Hotspot support, Android Auto and Apple CarPlay compatibility, a digital dashboard, a 10" Touch Pro display, and you can add options like a 825-watt Meridian Surround Sound System upgrade, a head-up display, and the wearable Activity Key. 
It's no surprise that the F-PACE is the best selling Jaguar in the lineup, it delivers the perfect balance of design and performance and the SVR version takes that idea into the stratosphere. The F-PACE SVR hits all the right notes in a British bruiser that is every bit as thrilling and sporty as you would hope it would be and more. 
From $80,600, jaguarusa.com