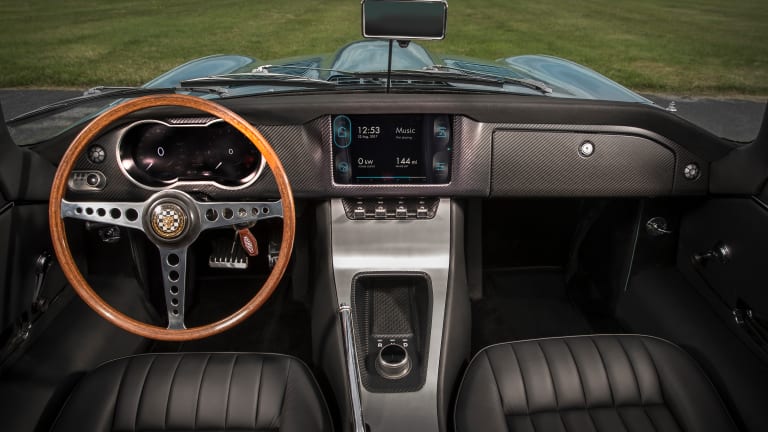 Jaguar has rebooted an E-Type to create the most beautiful electric roadster in the world
And they're hoping to build it too.
Jaguar has been hard at work perfecting their electric powertrain for the future, but today the company is looking to the past with one hell of an announcement. The company has been working on an all-electric E-Type Roadster and not only that, they actually want to build the damn thing! 
The E-Type Zero is based on a 1968 Series 1.5 Jaguar E-Type Roadster, which has receive a thorough internal overhaul from the company's Classic Works division. Jaguar used the what they've learned from the I-PACE to create a custom powertrain that puts out 220kW and has a lithium-ion battery pack that has the same dimensions and a similar weight to the six-cylinder in the original E-Type.
Since the powertrain's weight and dimensions are similar to the old six-cylinder, Jaguar was able to maintain the original suspension, front-rear weight distribution, and brake setup to allow for a similar ride feel to the original. It also makes for an easier conversion and simplifies the homologation process. 
As for power and performance, the car will have a range of about 170 miles that can be fully charged in six to seven hours depending on your charing setup and 0-62 will happen in 5.5 seconds. 
So when can you get an E-Type Zero in your garage? Jaguar will be gauging customer reaction and has also said their new electric powertrain could fit models like the XK120, MK2, and XJ6. The company is currently accepting inquiries so be sure to hit the link below to find out more.