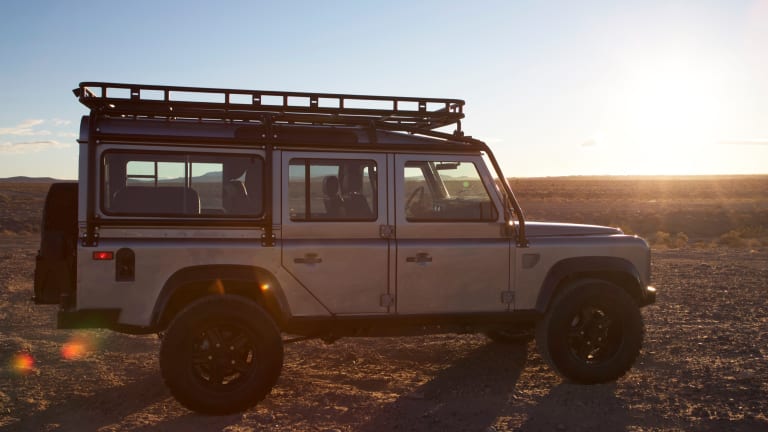 Now Updated With Video | The Icon Defender NAS 110
When the ol' Defender 90 just won't do.
You've seen them all over the cool guy blogs, Instagrams, and countless Tumblrs. If you couldn't already tell by that teeny little picture up there, we're talking about the Land Rover Defender. The big and boxy monster continues to be in large demand, but if you asked us which one we'd pick, it would have to be Jonathan Ward's latest piece of handiwork, the Icon Defender NAS 110.
We love the Defender 90 as much as the next guy, but with all that extra room and its apocalyptic assault car styling, it definitely ticks all the boxes on our checklist. This specific car is a 110 from 1993 that has seen its fair share of transcontinental adventures. 
As you would expect, there is an endless array of custom-engineered details and components that help this 110 earn its Icon badge. Under the hood is a 6.2L LS3 GM Erod motor that puts out 430-hp and 424 lb-ft of torque. That's coupled with a GM Supermatic Transmission and various other mechanical upgrades that include a custom suspension from Twisted and Bilstein, Twisted modified Axles, Alcon disc brakes, and more. 
Inside, you'll find a beast of dashboard with a fully CAD designed dash that is made from laser cut, ribbed steel. It also features an the Icon steering wheel, custom Icon CNC'd alloy control knobs, CNC'd vents, Alcantara throughout, doors and seating wrapped in American Bison hide, and a generous use of Dynamat sound deadener to help keep the cockpit comfortable and quiet. 
More at Icon4x4.com