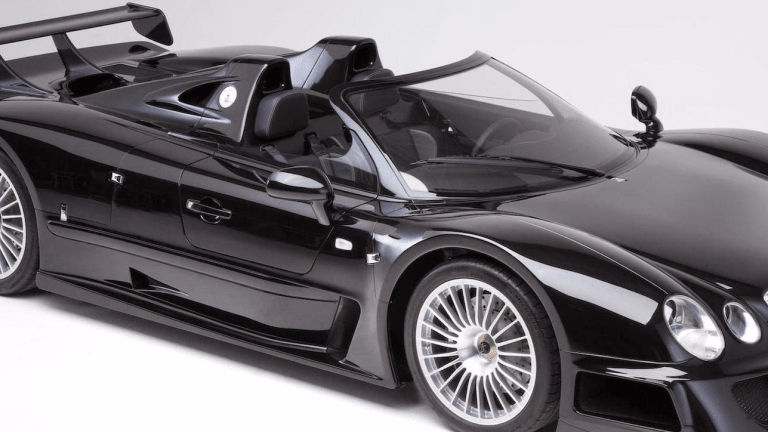 The Goodwood Festival of Speed Sale 2015
A few highlights from one of this year's most incredible auctions.
As usual, this year's Goodwood Festival of Speed Sale offers up an incredible treasure trove of automotive collectibles that are ready to be scooped up and added to some of the world's most impressive collections imaginable. We're talking CLK GTRs, early Aston Martins, and a Porsche owned by the legendary, Stirling Moss. Here's a few of our favorite highlights. 
1961 Porsche RS61
Not only is this one of the most amazing Porsches to ever grace the asphalt, this is the property of one Sir Stirling Moss. The car has seen a handful of owners since it was delivered brand new to its original owner in 1961 and fast forward to this decade when Moss purchased the car and took it back to the track to compete at the Historic Level in the Le Mans Classic. The RS-61 is expected to fetch $2.5 - $3 million dollars.
1999 Mercedes-Benz CLK GTR Roadster
The standard CLK may be one of the most forgettable cars that Mercedes has ever built, but the model name and its is where the similarities end. The CLK GTR is one of the rarest cars to ever wear the three-pointed star and one of the fastest. The drop-top featured a 6.9L V12 that could get the car from 0-62 in 3.8 seconds and reach a top speed of almost 200 mph. Expected sale price? $2.1-$2.7 million dollars. 
1935 Aston Martin Ulster Competition Sports
Before there was James Bond and his DB5, there were the roaring pre-war machines of '30s that were put into competition and are now some of the most highly sought-after cars in the world. This specific LM19 competed in the Mille Miglia, Le Mans 24 Hour Race in 1935, and the French Grand Prix in 1936. Sale price is expected to get anywhere from $2.4 to $3.4 million dollars.
1973 Porsche 911S 2.4-Litre Coupe
Vintage Porsche 911s are bigger than ever and this example from 1973 may just be one of the finest examples available. Owned by famed pop artist, Richard Hamilton, the car was purchased brand new in 1973 and was owned for 30 years before Hamilton passed it onto his son who owned until 2013. Sale price is estimated at $380,000 - 460,000.
Read more about the sale at bonhams.com