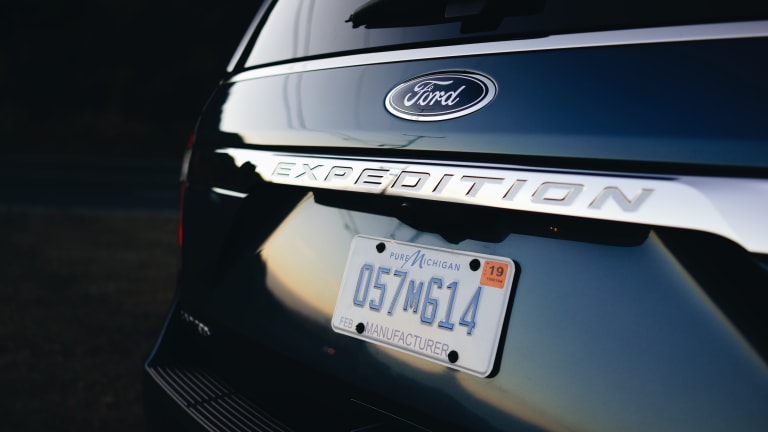 Ford's newest Expedition is a boxy behemoth brimming with luxury and capability
The company's newest luxury barge isn't afraid to get a little dirty.
Ford's big boy SUV returns with a fourth-generation model for 2018 and it has arrived in grand fashion with more luxury, more capability, and believe it or not, more efficiency. Of course, the new SUV stays true to the Expedition DNA with its gargantuan size, but still manages a respectable 17/24 MPG from its 3.5L, 375/400-hp (Platinum) EcoBoost engine. 
That engine is accompanied by direct injection and twin intercooled turbos to deliver unexpected power out of a vehicle of this size. The old solid rear axle also gets traded in for a independent rear suspension, available electronic limited slip differential, and optional continuously controlled damping for a capable and comfortable ride whether you're on or off-road. 
We witnessed all of this at work as we ascended and descended steep and rocky inclines and declines and the Expedition handled those situations like champ. You definitely feel like you're in a massive car, but the responsiveness and handling is much more nimble than you would expect. 
One of the most clever features is the car's Pro Trailer Backup Assist, a driver aid that makes maneuvering whatever you're towing incredibly easy. This is all done with a dedicated knob that you turn left or right and a combination of guides and a backup camera allow you to precisely move your trailer. 
Interior comforts and amenities include leather options and woodgrain accents, B&O Play sound systems, ambient lighting, wireless charging, and heated and ventilated seating. Ford also engineered a quieter interior with noise-cancelling technology that reduces sounds from the engine and any wind noise from bleeding into the cabin.
Whichever way you spec it, the Expedition will serve the needs of those who want the space and comfort of a full-size American SUV and the brute strength of a Ford truck. And if you want to go upscale, you can have all the luxury bits without the in-your-face, overtly shiny elements of its more glitzy and glamorous rivals. 
From $51,695, ford.com