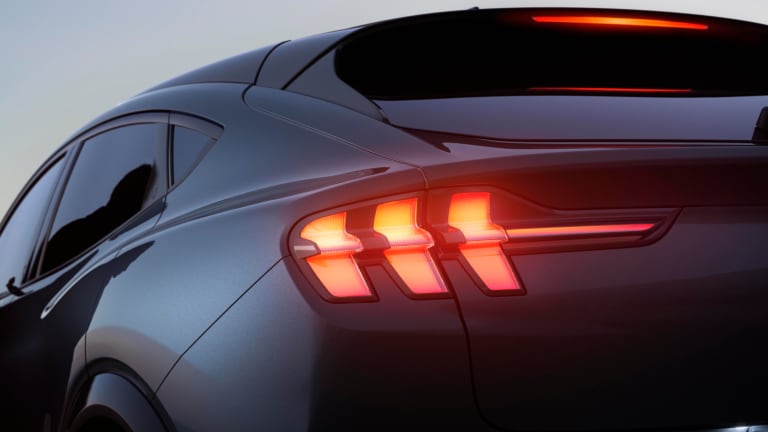 Ford is expanding the Mustang lineup with an all-electric, Tesla-fighting SUV
Say hello to the Mustang Mach-E.
There's a new Mustang coming in 2020 and it's going to be unlike any Mustang you've ever seen before. For 55 years, the Mustang has been an icon of the Ford brand and now it's getting fully electrified in a big way with the introduction of the Mustang Mach-E. It might sound blasphemous to an automotive purist to even call anything with four doors a Mustang but it's hard to deny the lineage when you see just how well they have translated the car's key design elements into a spacious, performance-focused SUV. 
Now you can't call it a Mustang without some decent power under the hood. The Mach-E will be available in a variety of options that include standard and extended-range models with rear-wheel-drive or all-wheel-drive configurations. When it comes to range, the SUV will be available in a standard range 75.7 kWh model and an extended range 98.8 kWh model that will be targeting a range of 300 miles when equipped with the rear-wheel-drive option. 
On the performance front, the SUV is targeting 332 hp and 417 lb-ft of torque in the extended range all-wheel-drive configuration while the range-topping GT Performance Edition is targeted to deliver mid-three second 0-60 times from with a configuration that produces 459 hp and 612 lb-ft of torque. Keeping these things charged on your commute is the FordPass charging network, a network of more than 12,500 charging stations with some offering DC fast chargers that can quickly add 47 miles of range in about ten minutes. 
Complementing the modern engineering and styling is an interior that is as practical as it is high-tech. The roomy, five-seat interior will have a fully digital dashboard experience and the next-generation of Ford Sync, which now boasts a 15" screen, where you'll be able to access a streamlined UI with all your favorite apps, wireless versions of CarPlay and Android Auto, climate controls, and much more. You'll also find wireless charging surfaces, USB-C ports, and an available B&O audio system. 
Ford is now taking reservations for the Mustang Mach-E and it'll cost you $500 to secure your spot. 
From $43,895, ford.com