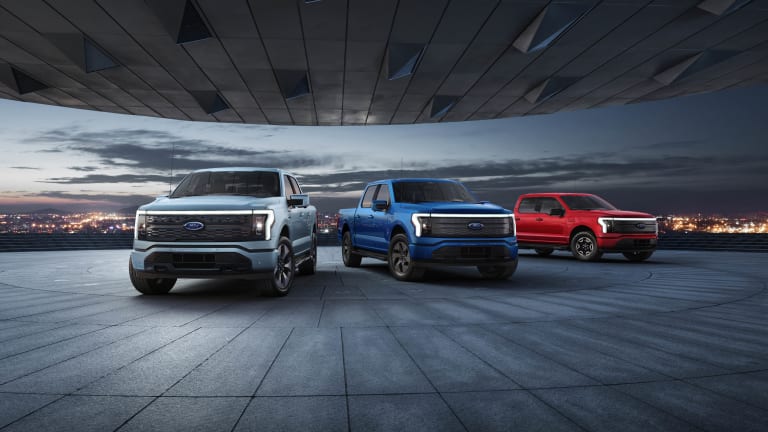 Ford reveals the all-electric F-150 Lightning
The company's first electric truck takes the F-150's combination of utility and performance into the future.
Ford has unveiled what's quite possibly one of its most important models in the company's history with the all-electric F-150 Lightning. The F-150 Lightning turns their most successful model into a high-performance, high-utility EV, bringing the truck into the 21st century with a modern look while still keeping the F-150 DNA fully intact. The truck will come in two models: a standard-range battery and an extended-range battery, which both feature four-wheel-drive and a targeted 775 lb-ft of torque, more than enough power for a towing capacity of 10,000 lbs. 
The standard-range battery is targeting a peak power of 426 hp while the extended-range battery targets 563 hp and a 0-60 time in the mid-four seconds. The standard range model has a targeted EPA-estimated range of 230 miles and 300 miles for the extended-range battery. As for charging time, both models can plug into a Level 3 (150kW) charger, getting from 15 to 80% capacity in over 40 minutes. 
When plugged into the optional Level 2 Ford Connected Charge Station (48-amp), the F-150 Lightning can reach a full charge in 10 hours with the standard battery or 13 hours with the extended range battery. With the 80-amp Ford Charge Station Pro, the extended range battery can get to a full charge in eight hours. One incredible feature is the ability to channel that power into your house when plugged into the 80-amp Ford Charge Station Pro. The extended-range battery has enough juice to power your home for up to three days and you can even keep the lights on for up to ten days when rationing energy. 
When it comes to functionality, the truck brings some new features such as the mega power frunk that has 400L of storage, more than enough for two carry-on bags and one check-in. It also has drainable floors and electrical outlets and USB ports that can deliver up to 2.4kW of power for powering everything from worksite tools to electronics and appliances. 
The F-150 Lightning is now available for pre-order ($100 deposit) and deliveries are set for spring 2022. 
From $39,974, ford.com