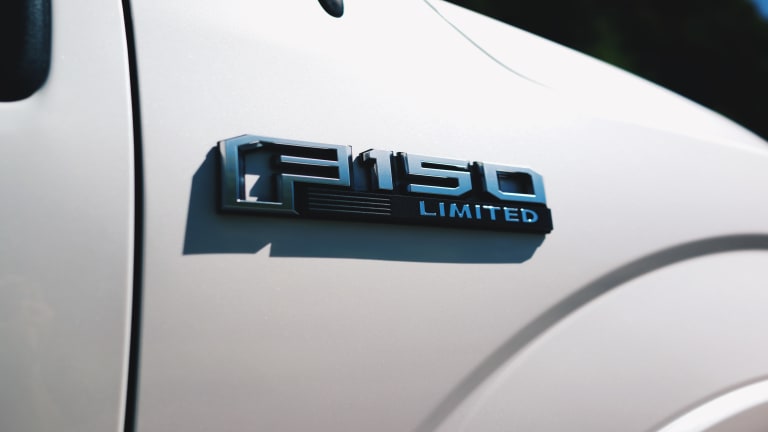 Top-of-the-line truckin' in the 2018 Ford F-150 Limited
Beastly, utilitarian, and exceedingly luxurious.
The 2018 Ford F-150 is a workhorse of a car and for the 2018 model year they've upped the ante with more capability and more powertrain options than ever before. What really piqued our interest was their range-topping "Limited" trim and last weekend we got a chance to grab the keys to one heavily spec'd out F-150 in Upstate New York. 
At first glance, you're immediately hit with the "Built Ford Tough" design language as its massive, satin finish grille is framed by its distinctly squared-jawed, aluminum-alloy body. Once you hit the remote start button, the C-Clamp headlamps illuminate to reveal the quad-beam LED lamps that further amplifies the imposing presence of that road-devouring front end. 
As you walk past the muscular fender flares and open the door, the running boards deploy at your feet and you're greeted by an interior that's dripping in leather, wood, and aluminum. Once you're seated, you can stay as cool or as warm as you want with the heated/ventilated seats and you also have 10-way adjustability and massage. 
Push the start button and the 3.5L EcoBoost engine comes to life, bringing plenty of grunt with 375-hp and 470 lb-ft of torque. Add a pair of twin-turbos and you've got some serious on-demand power, which we put to good use as we smoothly sped our way through the New York countryside. 
On the tech front, it's got everything and then some. A few highlights from the endless list of features included a 360-degree camera (a lifesaver in the city), Android/CarPlay compatibility, a 4G LTE hotspot, B&O Play audio, and the ability to check fuel status and remotely start and stop your car via your smartphone. 
Don't let the massage seats and the well-appointed cabin fool you, the F-150 Limited is a truck through and through with plenty of capability at your disposal when you want to get your hands dirty. From its maximum payload of 3,270 lbs to its maximum towing capacity of 13,200 lbs, this truck is ready to work and has more than enough muscle to power through the toughest jobs. 
Now, $63,000 opens up a lot of choices for you when it comes to choosing a car and obviously the F-150 Limited is targeting a very specific segment of the market. If you do happen to fall under that category you'd be hard-pressed to find a better option that offers this much capability with the kind of comfort and luxury that is normally reserved for high-end sedans. 
Yes, the car is big, brutish, and in-your-face, but that's the charm of the F-150 and it's #1 for a reason. Throw in an interior that you can pretty much live in and you've got the perfect recipe for a daily driver that can truly do it all. 
2018 Ford F-150 Limited
Power: 375-hp 3.5L V6
Fuel Economy: 18/25/21 (4x2), 17/23/19 (4x4)
Price: From $63,945 
For more visit Ford.com