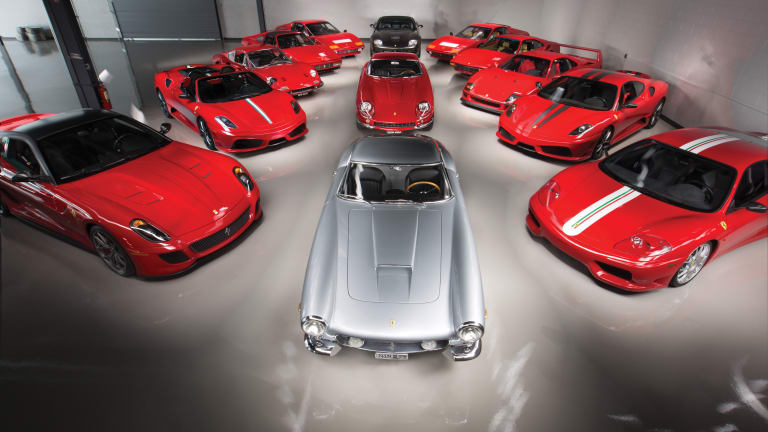 RM Sotheby's announces the Ferrari Performance Collection Auction
The lot will include 13 of some the most significant Ferraris of all time.
One of the biggest automotive auctions this year continues to get more and more interesting as RM Sotheby's has announced the Ferrari Performance Collection. The collection will consist of 13 of some of the most important Ferraris in the company's history. The list includes cars such as the 1961 Ferrari 250 GT SWB Berlinetta, a 1967 Ferrari 275 GTB/4 Berlinetta by Scaglietti, and a 1969 Ferrari Dino 206 GT. Most impressive is that the collection was owned by a single owner, who treated his cars incredibly well. All the cars are low mileage, carefully maintained, and well be sold without reserve. 
The full list of cars to be sold: 
1961 Ferrari 250 GT SWB Berlinetta – Est. $8,500,000 – $10,000,000
1967 Ferrari 275 GTB/4 Berlinetta by Scaglietti – Est. $2,750,000 – $3,250,000
1969 Ferrari Dino 206 GT – Est. $650,000 – $750,000
1991 Ferrari F40 – Est. $1,300,000 – $1,500,000 (Offered without reserve)
2011 Ferrari 599 GTO – Est. $700,000 – $800,000 (Offered without reserve)
1984 Ferrari 512 BBi – Est. $375,000 – $450,000 (Offered without reserve)
2005 Ferrari 575 Superamerica – Est. $375,000 – $450,000 (Offered without reserve)
2009 Ferrari 16M Scuderia Spider – Est. $350,000 – $400,000 (Offered without reserve)
1984 Ferrari 512 BBi – Est. $275,000 – $325,000 (Offered without reserve)
2004 Ferrari 360 Challenge Stradale – Est. $275,000 – $325,000 (Offered without reserve)
2009 Ferrari 430 Scuderia – Est. $250,000 – $300,000 (Offered without reserve)
1976 Ferrari 308 GTB 'Vetroresina' – Est. $175,000 – $225,000 (Offered without reserve)
1989 Ferrari 328 GTS – Est. $90,000 – $120,000 (Offered without reserve)