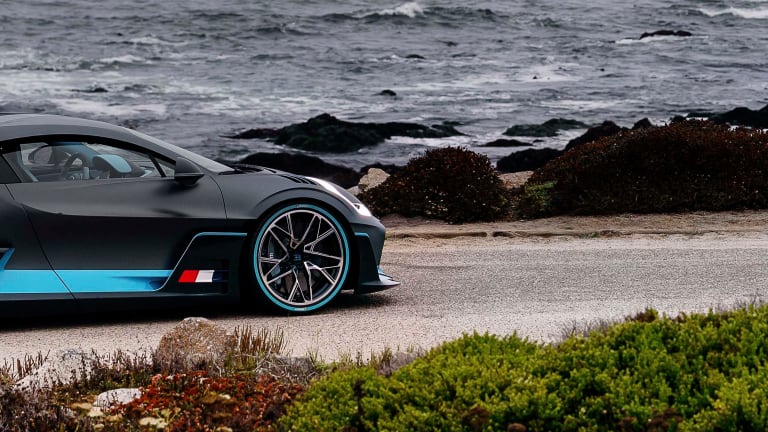 Bugatti reveals its $5.8 million dollar Divo
The hypercar is designed to be a cornering missile.
One of the biggest reveals at this year's Quail Motorsports Gathering was the announcement of an all-new Bugatti, the $5.8 million dollar Divo. The new flagship steps it up in the performance department with a larger focus on agility, cornering, and lateral acceleration. The signature W-16 engine will pull the Divo to a top speed of 236 mph and is 77 lbs lighter than the Chiron and has 198 lbs more downforce. 
The bold look of the Divo is further emphasized by the extensive use of aerodynamic components throughout the car. Cooling is directed throughout the the car, from the brakes to the engine to keep the overall temperature at an optimal level. There's also a massive adjustable rear spoiler that's larger than the Chiron's, boosting downforce and air brake performance. 
One of the most striking elements of the Divo's exterior is the the 3-D rear light, which is integrated into the rear grille and is partially produced using 3-D printing. Each of these 44 fins illuminate to create the rear lighting system of the Divo, which are wider at the outer edge and narrows as you move toward the center, which creates a gradual fade and a stunning rear light setup unlike anything else out there.
All 40 Divos have been already been sold. 
$5.8 million dollars, bugatti.com