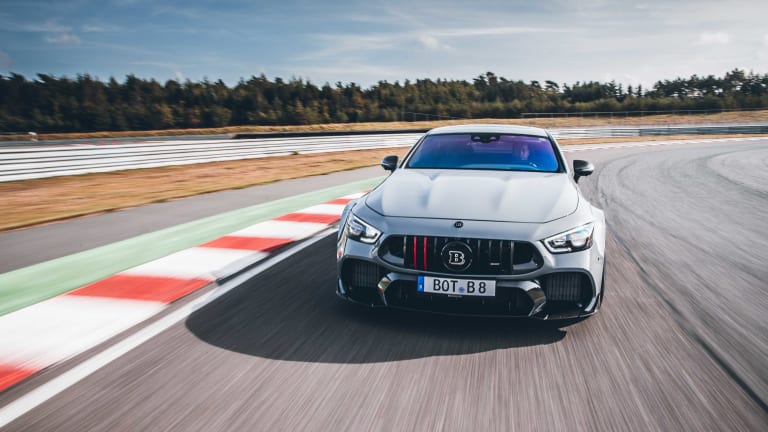 Brabus turns the AMG GT 4-Door into a 900 hp supercar
The Brabus Rocket 900 is capable of reaching a top speed of 205 mph.
Brabus takes the AMG GT 4-Door to supercar levels of performance with the new Rocket 900 "One of Ten." Based on the GT 63 S 4MATIC+, the tuner has taken the four-door coupe and upgraded it with a high-performance forced-induction system that helps the car produce 900 hp and 922 lb-ft of torque, allowing for a 0-62 time of just 2.8 seconds and an electronically limited top speed of 205 mph. A wider set of 21" and 22" tires and Brabus Monoblock Z forged wheels have been fitted to the car while a new carbon widebody was constructed to accommodate them. 
Additional features include a wind tunnel tuned exterior with a carbon front fascia, an integrated carbon ram-air intake system in the radiator grille, stainless steel quad exhausts with free-flow metal catalysts, a recalibrated ECU, a multi-piece carbon rear wing and rear diffuser, an exclusive "Stealth Gray" paint finish, an Alcantara and royal black leather interior, and stainless steel scuff plates. 
€435,800 (approx. $516,902), brabus.com