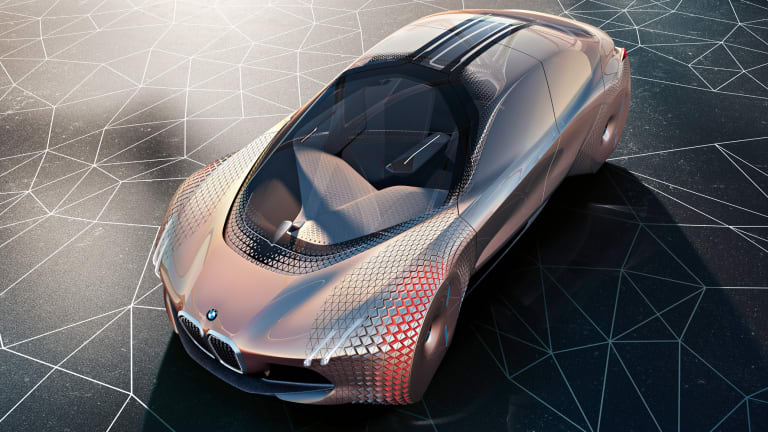 BMW celebrates its 100th anniversary and unveils what might be in store for the next 100
What will the BMW of the future look like?
First of all, Happy Birthday, BMW. The company is celebrating its 100th Anniversary and they've just unveiled the Vision Next 100, a car that gives a hint of what we could possibly expect from the company in the decades ahead. So will "The Ultimate Self-Driving Machine" be the tagline of the future? Not exactly. 
The company hopes its cars will be both, a car that not only drives itself, but continues to be a driver-oriented car with the kind of performance you would expect behind that famous kidney grille. They'll do this with two driving modes: "Boost," which adjusts the seat and steering wheel for driving and "Ease" that hides the steering wheel and automatically adjusts the interior for a more relaxed cabin. 
When you're in "Boost" mode, the car turns BMW's heads-up display technology up a notch with a windscreen that becomes your entire screen giving you information like navigation data and safety features like alerting you to crossing vehicles in low visibility situations. 
One of the wildest concepts is their "Alive Geometry" that consists of 800 moving triangles that are featured throughout the interior and exterior of the car. On the interior the triangles produce an intuitive signal that warns the driver of any potential road dangers. On the outside the triangles wrap around the wheels showing a dimensional structure when the wheels swivel and then flatten to help reduce drag.