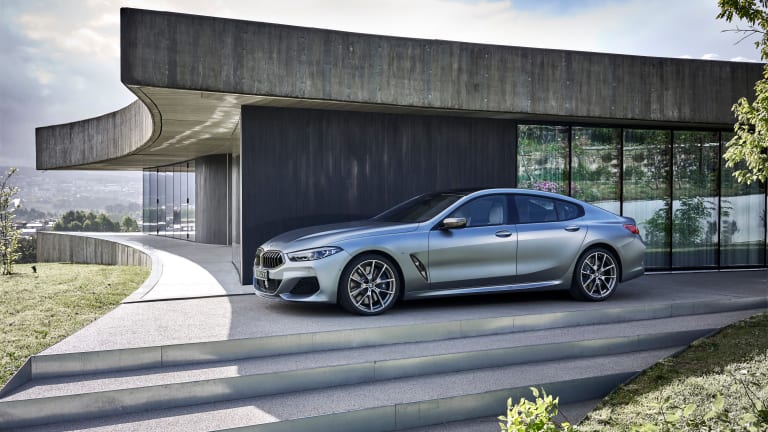 BMW reveals the 8 Series Gran Coupe
The brand's flagship sports car gets a bit more practical.
The 8 Series is adding a new four-door to the lineup with the debut of the 8 Series Gran Coupe. Nine inches longer and 1.2 inches wider than its two-door sibling, the new Gran Coupe model will be available in a rear-wheel-drive or all-wheel-drive variant with a choice of a 335 hp six-cylinder engine or a 4.4L V8 with 523 hp. 
The six-cylinder, rear-wheel-drive 840i is capable of a 0-60 time of 4.9 seconds while the all-wheel-drive 840i xDrive gets there in 4.6. Both models are electronically limited to 130 mph with all-season tires and can reach 155 mph when fitted with performance tires. The range-topping M850i xDrive model makes use of the 553 horses to deliver a 0-60 time of 3.7 seconds and is also electronically limited to 130 mph on all-season tires and 155 mph with performance tires.
As for technology and interior comfort, the Gran Coupe will have an extensive set of standard and optional driver assistance systems. This includes safety systems that could help stop a collision and optional features such as an Extended Traffic Jam Assistant that lets the car take over during commutes with heavy traffic. 
You'll also find the latest-generation Head-Up display system that puts essential information like vehicle speed, route guidance, and overtaking restrictions comfortably in your field of view. The company's Live Cockpit Professional and iDrive 7 equips the dashboard with large high-resolution displays and has features such as CarPlay, cloud-based voice controls, and smart device compatibility. 
The 8 Series Gran Coupe will launch this September. 
From $84,900, bmwusa.com