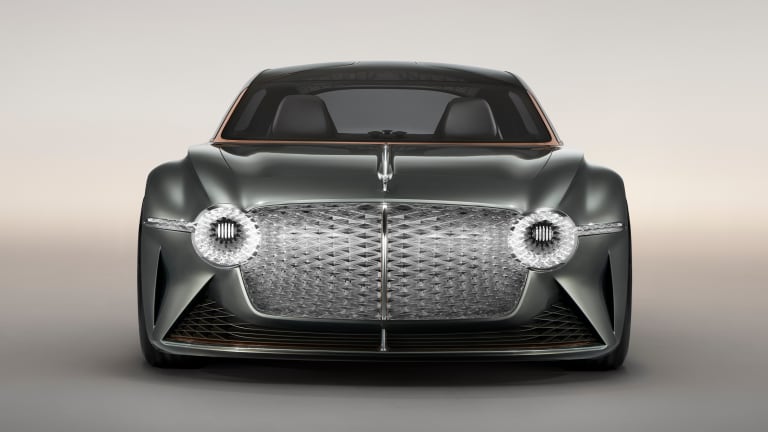 Bentley looks to the future with the jaw-dropping EXP 100 GT
Happy 100th, Bentley.
Today is the 100th birthday of Bentley Motors and you better believe the Flying B is celebrating in style as the company takes a look into the next 100 years with the EXP 100 GT. The concept is what the brand imagines what their Grand Tourers would look like in 2035 with a jaw-dropping design that will serve as the inspiration for the next generation of Bentley vehicles. Behind the massive illuminated matrix grille lies the heart of the EXP 100 GT, a zero emissions, all-electric powertrain that has a range of over 400 miles, a powerful engine that is built for both driving or being driven via the car's autonomous system. On the performance side, the car will be able to do 0-60 in less than 2.5 seconds and can reach a top speed of 186 mph. 
Sustainability was a major focus with materials such as 5,000 year old copper-infused Riverwood, a "Compass" paint finish made from recycled rice husk ash, 100% organic leather-like textiles, Cumbrian crystal, and British-farmed wool carpeting. The brand's approach to driver and passenger comfort is taken a few steps further through features like Adaptable Biometric Seating and an AI-driven Bentley Personal Assistant system that can do everything from automatically adjusting the seat comfort based on your driving situation to monitoring temperature and environmental conditions.