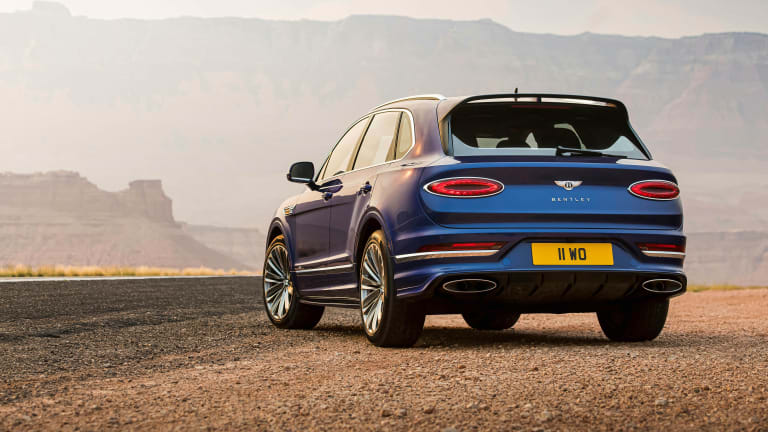 Bentley reveals its latest version of the Bentayga Speed
The ultimate Bentley SUV.
Bentley reveals the ultimate expression of its SUV with the launch of the Bentayga Speed. The high-performance SUV is powered by the company's hand-built W12, which produces 626 hp and 664 lb-ft of torque, allowing for a 0-60 time of 3.8 seconds and a top speed of 190 mph. Though the engine delivers incredible amounts of power, it was also designed with efficiency and comfort in mind with features like cylinder deactivation and four on-road Drive Dynamics modes to engage a plush or sportier ride. 
All that power can be complemented with an optional carbon ceramic brake system and Bentley Dynamic Ride ensures enhanced stability and handling via a 48V system. When it comes to visuals, the exterior features dark-tint headlights, body-colored side skirts, a front and rear bumper unique to the Speed, and an elongated tailgate spoiler. There's also dark-tint radiator and bumper grille finishes, 22-inch wheel options in two finishes, and an extensive selection of paint choices. 
For an even sportier look, a Black Specification is available that switches out the chrome elements with gloss black or carbon fiber finish options, gloss black 22" wheels, and gloss black exhaust finishers. Completing the look is a roof spoiler in curved carbon fiber. Inside you'll find the Speed-exclusive color split interior and as with all new Bentaygas, the SUV receives all the infotainment updates such a larger display, wireless Apple CarPlay, USB-C sockets, an embedded SIM, and more.