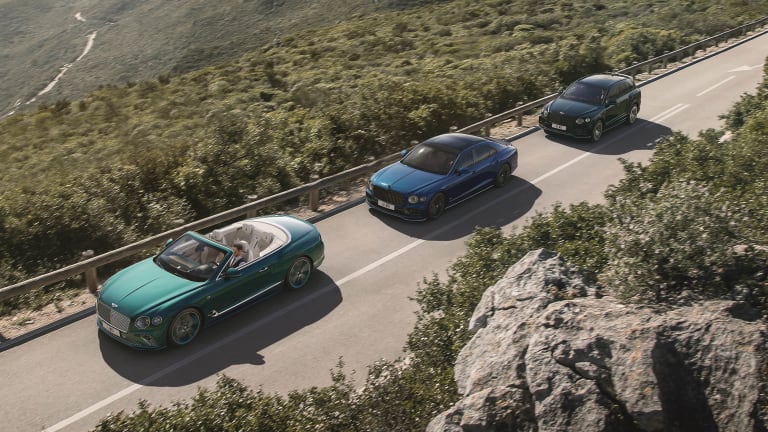 Bentley's Mulliner division introduces three new bespoke collections for the US
The new collections can be specified through Mulliner's Personal Commissioning Guide.
Bentley's Mulliner division has unveiled three new collections that were specially designed for the US. The first collection is the Mulliner Nauticis, a yachting-inspired line that features four Cotntinental GT V8 Convertibles painted in Aegean Blue and Ghost White. The cars are fitted with bespoke 22" Aegean Blue and Polished face alloy wheels and includes a color-matched carbon fiber Styling Specification. The interior brings together Brunel, Linen, and Portland leather throughout the seats, front fascias, and waistrails. 
The Mulliner Skyline Collection updates the Flying Spur, Continental GT Convertible, and Bentayga with Onyx black exteriors, a Blackline Specification that updates the chrome with a darker finish, and a carbon Styling Specification that adds a silver pinstripe edge and 22" black and silver alloy wheels. The interior features silver accents with painted veneer fascias, silver contrast stitching, personalized treadplates, and custom LED welcome lighting. 
The Mulliner Miami Collection (above) takes inspiration from the city's art scene with bold exterior options that are complemented with Arctica pinstriping. Available for the Flying Spur, Continental GT, and Bentayga, the cars can be specified in orange, blue, or lime green while the cabin is finished with two-tone, paint-matched piano veneers.
---