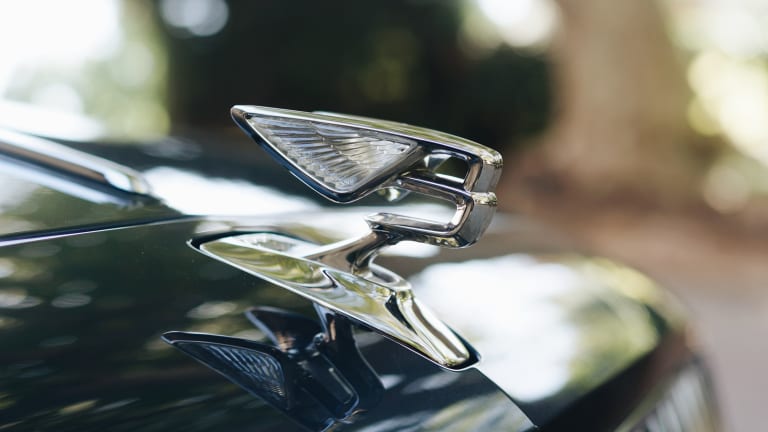 Bentley delivers the ultimate level of luxury and performance in the new Flying Spur
Extraordinary elegance at 207 mph.
There is no missing the new Bentley Flying Spur when you see it in person. It is a massive and majestic feat of engineering that takes the brand's key design and performance principles to create a Bentley for today and tomorrow. The third-generation model takes the idea of the Flying Spur and presents a workshop on how to create a proper luxury car with no compromises. Even calling it a car seems like it's doing it an incredible disservice. It's an experience of automotive luxury at the highest level and as you would expect, it manages to pull this off with the elegance and consideration you would hope for in a Bentley vehicle. 
The first thing you'll notice about the new Flying Spur is its jaw-dropping exterior. Continuing the design language and aluminum superforming that debuted in the new Continental, the exterior presents those sculptural lines in a wheelbase that's 130mm longer than the previous version. Its immense presence greets you with a bold array of vertical vanes in front of a black radiator matrix and it's crowned with a Bentley first. It features an electronically-deployed Flying B that has been integrated into the nose, which ascends and illuminates when the driver comes into close proximity of the car. 
Flanking the grille are a set of LED matrix headlights that feature a design that echoes that of finely cut crystal. These lamps are surrounded in polished chrome but can also be spec'd out in a stealthy Black Line treatment that also extends to the radiator vanes, brightwork, exhaust outlets, and the Flying B. Behind the grille is an updated version of their signature W12, which is coupled to an eight-speed dual-clutch transmission. 
Delivering a total of 626 hp and 664 lb-ft of torque, pressing the pedal is like activating an afterburner on a fighter jet and it launches like one too. 0-60 happens in 3.7 seconds and it can reach a top speed of 207 mph. Don't forget we're talking about a car that weighs over 5,000 lbs. It is truly mind-blowing, supercar-level speed. Also worth noting is the debut of electric All-Wheel Steering, a feature that enhances the car's maneuverability, which comes in handy in a car of this size. 
Bentley positions the vehicles as a Grand Tourer and while the performance certainly delivers, it also packs a massive 23.7 gallon fuel tank to help cover those long distances. But what good is a Grand Tourer if the interior isn't comfortable? Obviously, you'll literally be in the lap of luxury but what they've done in the new Flying Spur is pretty special. In the driver's seat, you're greeted with a digital dashboard and one of the coolest features you'll ever see in car today: the Bentley Rotating Display. When you start the car, the center of the dash rotates in dramatic fashion like something you would see in a Bond movie, revealing a 12.3" touchscreen display. It can also rotate once again to reveal another side of the display that contains a trio of analog gauges. 
The interior is filled with tons of jewel-like knobs, knurling, and intricate stitching but it's the door panels that stole the show. Playing off of the brand's signature diamond quilted seating, the door panels feature three-dimensional diamond quilted inserts, a first for any car. The collection of interior textures extends to the speaker grilles, which illuminated with ambient lighting when specified with the 16-speaker, 1500W Bang & Olufsen sound system. The car can also be equipped with a benchmark-setting 2,200W, 19-speaker Naim system that integrates Active Bass Transducers into the front seats for an immersive, audiophile-level sound experience no like no other. 
Another neat trick can be found in the dedicated rear seat remote control, a control that looks to be permanently fixed to its location but smoothly ejects out of its enclosure with the press of a button letting you control a vast amount of features such as rear seat massage, window blinds, mood lighting, audio, and you can even deploy and retract the Flying B ornament. Now, we could go on for days about every little detail about the interior and if you couldn't already tell, it's pretty difficult to not obsess over the exceptional amount of work that's on display here. Bentley has built the ultimate modern luxury sedan and the only bad thing we can say is that we don't have a few more pennies to rub together to own one ourselves. If we did, there is no other place we'd rather be than in the driver's (or passenger) seat of the new Flying Spur. 
The new Flying Spur is currently in production in the UK with the first customer deliveries set for early 2020. 
From $214,600, bentleymotors.com