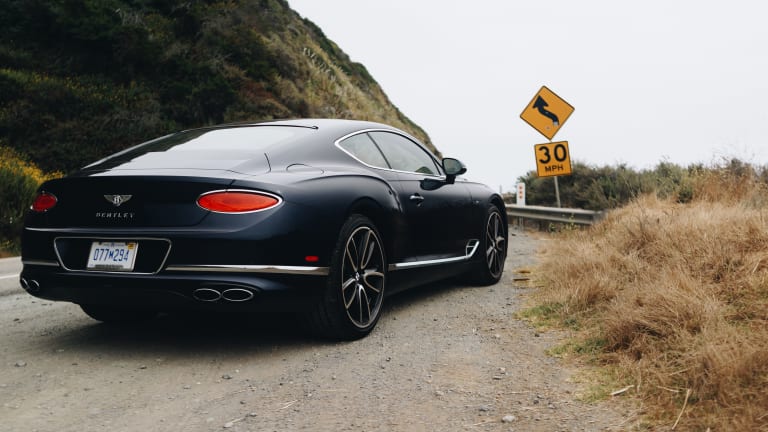 The Bentley Continental GT is the most elegant supercar in the world
When it comes to pure opulence and brute strength, nothing beats the coupe from Crewe.
For the uninitiated, the Bentley Continental GT might be easily shrugged off as some grandiose status symbol but behind those sculpted lines and jewel-like headlights is something much more substantial. Think of it as Christian Bale in Batman Begins, stocky yet athletic with the endurance and precision of a navy seal. The latest model perfects the formula of benchmark-setting luxury and performance in a striking new look and it's more powerful than ever. 
At its heart, the Continental GT is a Grand Tourer in its highest form. As the name suggests, the car is designed to travel across continents and it does so with unrivaled comfort while having a stampede of horses at the ready to deliver what feels like an unlimited amount of power. In its V8 configuration, the GT produces 542 hp and 562 lb-ft of torque, allowing for a 0-60 time of 3.9 seconds and a top speed of 198 mph. Crank it up a notch to the W12 and we're talking 626 hp, 664 lb-ft of torque, a 0-60 time of 3.6 seconds, and an unbelievable top speed of 207 mph.
Where it really gets fun is where that performance can take you. The V8 has a maximum fuel range of 474 miles and the W12 is slightly lower at 411 miles. It truly is a car that is meant to be driven fast and far. And in the third generation model, they've turned the cabin into a space that you'll never want to leave. The amenities are plenty and the luxuries are endless, from the plush handstitched seats to the diamond-milled center console with its 007-worthy Bentley Rotating Display and you'll experience a vault-like silence brought on by the acoustic laminated glass and the Pirelli Noise Cancellation System.
And the engine isn't the only thing that sings, Bentley has always had some of the best audio systems on the planet and they've teamed up with Bang & Olufsen to offer a 1,500 watt sound system or a life-altering, 2,200 watt Naim by Bentley system that can outshine even the most high-end of hi-fi setups. Combined with the whisper-quiet cabin, the GT turns into a high-speed concert hall like no other.
They've also stocked it with plenty of technology to assist you on your travels with safety features like Pre-sense braking and infrared-powered Night Vision, a 360-degree Top View Camera, Traffic Sign Recognition, and an optional Head-Up Display that keeps all the important traffic, navigation, and speed limit info in your line of sight. 
This is all wrapped in what might be the best looking modern Bentley coupe yet. The sculpted front end and the muscular rear haunches create a dramatic look that is both refined and imposing with their signature matrix grille flanked by one of the most beautiful sets of headlights on a vehicle today. Yes, the 55 LEDs inside the Matrix beam headlamps brightly illuminate the road ahead but it's the intricate, crystal-like detailing that we can best describe as a glowing kaleidoscope filled with diamonds.
Everything about the Continental GT is an event. From the first moment you open that door to the journey itself, it's an experience of pure driving pleasure with purposeful practicality that really has no equal. It's a balance they've absolutely nailed in the new GT and we have a feeling it will continue to be the benchmark for years and years to come. 
For more on the Continental GT, visit bentleymotors.com