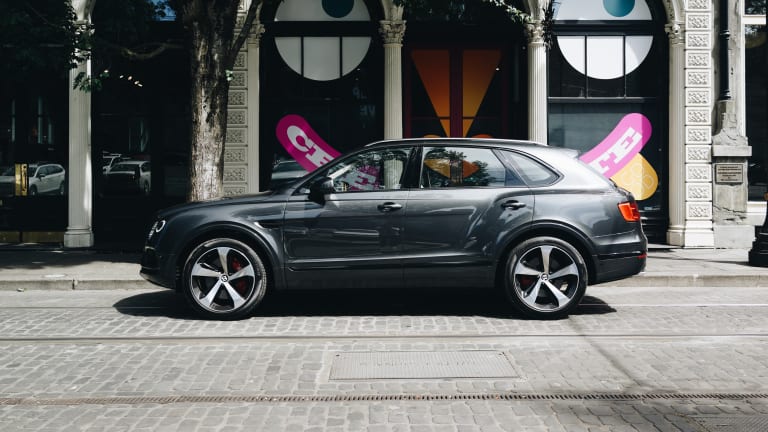 From the asphalt to the summit, the Bentley Bentayga V8 is ready for it all
A look at the Flying B's new V8-powered brute.
Versatility and luxury have always been at the very core of Bentley's DNA and the Bentayga is the ultimate showcase of those elements in SUV form. Not only are you wrapped in sumptuous, handcrafted leather, but the plush interior is complemented by some serious automotive engineering, both in capability and outright speed. When the car first launched, the Bentayga arrived with the company's signature W12 engine and now it's hitting dealers with a new 4.0L V8 option.
And don't think for a second that the V8 is a step-down from the W12, the eight-cylinder offers up some mind-boggling performance with 542 hp and 568 lb-ft of torque. All that power enables the Bentayga to get from 0-60 in 4.4 seconds and it will hit a top speed of 180 mph. Experiencing that kind of speed in an SUV of this size is what we would imagine Thor's hammer would feel like as it hurtles through the Bifröst.
What's really impressive is what you can do with that power. We took a Bentayga V8 through the heavily forested roads of Oregon as it gracefully maneuvered through the bends with its unstoppable power and its 48V Electronic Active Roll Control system that kept it planted in the corners. It's a state that provides plenty of amazing driving roads for the Bentayga to play on and we imagine it'll be more than prepared for the stormy wrath of the Pacific Northwest. 
As we inched closer toward Portland and the traffic of city life, you begin to see why the Bentayga and just about any Bentley for that matter is so special. Creeping along in traffic is a dramatically different experience than any other car. The noises of the everyday commute are virtually eliminated and you're surrounded by an almost deafening silence, which you can fill with an optional 1,950 watt sound system from high-end audio specialist, Naim. 
Alongside the audio system, there's plenty of tech to be had throughout the car. This includes a head-up display, Android Auto and CarPlay, a 4G LTE hotspot, night vision, an array of cameras and sensors, an exit warning and traffic sign recognition system, automatic parallel parking assistance, and a Drive Dynamics Control that lets you choose from ten driving modes based on your comfort preferences or current weather or terrain conditions. 
What's really interesting here is the price point. Bentley is offering the Bentayga at a starting price of $165,000. Now, it's quite easy to go crazy with options to get that price way past $200,000, but when you start at $165,000 you begin to approach the prices of top-of-the-line Range Rovers, Cayennes and G-Wagens. The difference here being that you get access to one of the most prestigious badges in the world. 
No matter where you take this thing, whether that be a quick little sprint up your favorite mountain or into the city for a night on the town, it's an SUV that's truly built for it all. You've got comfort, luxury, spectacle, and the ingenuity of British refinement and engineering. It's all you can ask for from a Bentley and you definitely get all of that and much much more.  
From $165,000, bentleymotors.com
Cheat Sheet
Power: 4.0L V8, 542 hp, 568 lb-ft torque
Performance: 0-60 in 4.4 seconds, 180 mph top speed
Price: From $165,000