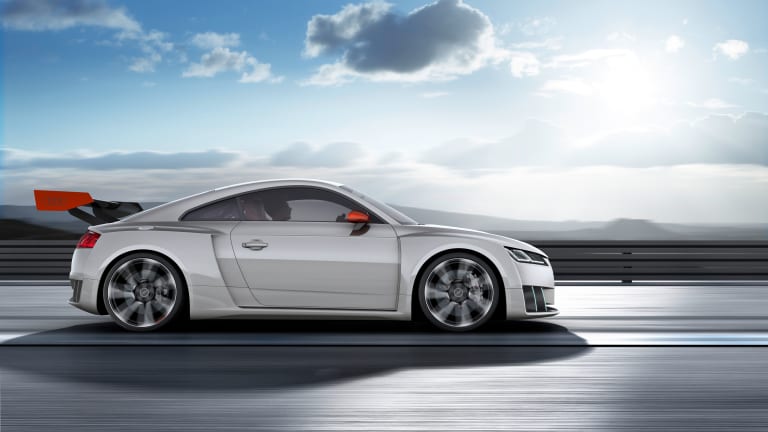 Audi TT Clubsport Turbo Concept
If you build it...Come on Audi, just build it already.
Sure, the new Audi TT looks fun, but this is the batsh-- crazy Audi we've all been pining for. Compact and overloaded with power, the Audi TT clubsport turbo concept is a quattro-powered roller coaster ride that takes a 2.5 TFSI engine and matches it with an electric biturbo that turns the gas pedal into a warp speed button. 
Just how fast? 0-62 in 3.6 seconds fast. The five liter engine and the e-turbo not only transports you from 0-62 in the blink of an eye, it will reach a top speed of 192 mph. 
t's also a mean looking piece of machinery too, Audi added an additional 5.5 inches of width with a set of angular fenders which also have an open design to let air through to coo l the brakes. They've also optimized the grille for airflow and a manually adjustable rear wing is based on the Audi Sport TT Cup and features a wider design with new geometry.
Inside, the drive is surrounded in a "cage" of titanium tubing to increase safety and rigidity and the cockpit is wrapped in carbon fiber reinforced plastic and black and coral orange Alcantara. 
More at audi.com.