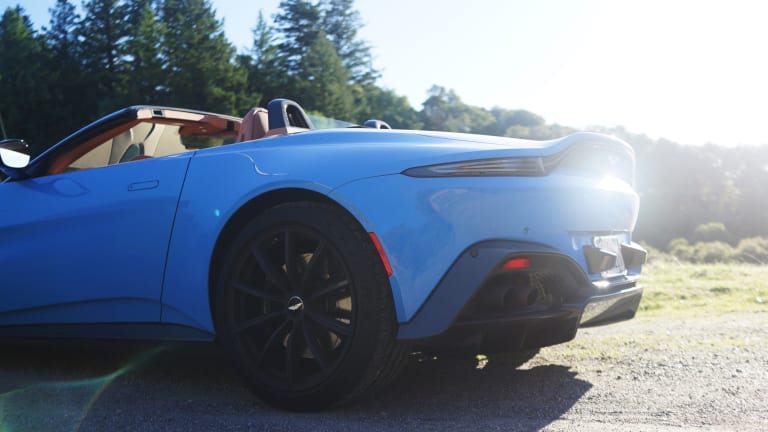 Killer App | The Aston Martin Vantage Roadster's record-breaking roof
Zero to wind in your hair in just 6.7 seconds.
The Aston Martin Vantage is one of those cars you can see from a mile away and immediately identify what it is. And not because of that traffic-stopping Ceramic Blue paint finish. That silhouette is simply unmistakable and for the latest generation Vantage, the design team created the most dramatic expression of the model to date, building on the design of the DB10, driven by Daniel Craig in 2015's Spectre. 
While the DB10 brought a futuristic interpretation of Aston Martin's design language to the big screen, the styling of the new Vantage was much more radical. The shark-like frontend is much more aggressive with its massive grille and the sculpted lines that flow into that unforgettable upturned ducktail spoiler stands as a new signature design element that seems to have gone over so well that the company brought it to its new SUV, the DBX. 
So what happens when you ditch the roof and lose that iconic shape. Well, for the new Vantage Roadster, the talented design team proves once again that they can make a convertible that is as beautiful, if not more beautiful than a hardtop coupe. There always seems to be highly opinionated camps when it comes to coupe vs. convertible and we think that comes down to styling. Plenty of beautiful cars don't quite translate well when the roof is eliminated from the equation but as with most things, Aston Martin nailed it and not just in its design but also in its functionality. 
Yes, it does shave 5 mph off its overall top speed and it's just a hair slower from 0-60 as its hardtop sibling, but its handling is every bit as precise and with the top down, we promise the last thing you'll be thinking about is performance numbers. And that's not the best part. The new Vantage Roadster has a pretty unique record-breaking feature: the fastest convertible roof on the market. That sounds incredibly trivial...until you try it. Let's talk about the competition for a second. The Porsche 911 Cabriolet? 12 seconds. The AMG GT Roadster? 11 seconds. The Audi R8? 20 seconds. And the Vantage Roadster? 6.7 seconds. 
It can pull this off at up to 31 mph and it goes back up just as quick, which is exactly what you want when you start to see the clouds begin to part for bluebird skies or when mother nature creeps in to kill the mood of your Sunday drive. It's just one of those things you never knew you wanted and in our limited seat time with the car, we really wouldn't have it any other way. Oh, and Aston, we'll take ours in Arden Green with an Oxford Tan interior, please. 
---
From $150,000, astonmartin.com