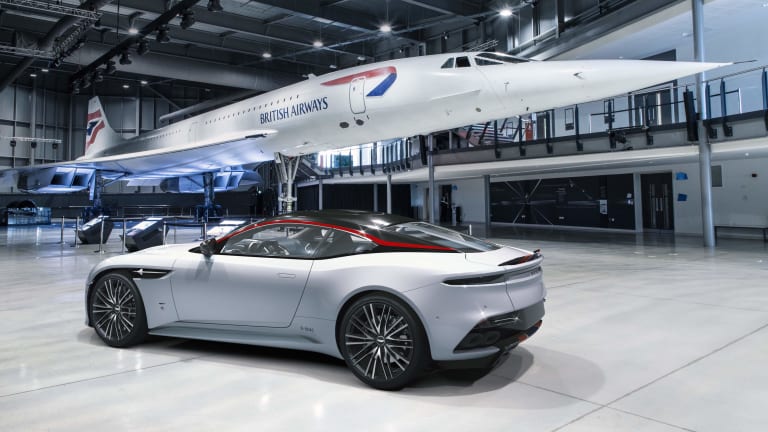 Aston Martin celebrates an aviation icon with the DBS Superleggera Concorde
A V12-powered celebration of speed.
Aston Martin is celebrating the fastest passenger jet of all time with a special edition of one of its fastest cars ever, the DBS Superleggera. Spearheaded by their Bespoke Q by Aston Martin program, the DBS Superleggera Concorde will feature a selection of exclusive exterior and interior elements such as custom side strakes that are made from milled aluminum, custom painted livery that features the British Airways colors on the roof strake, aero blade, and rear diffuser, a black tinted carbon fiber roof with Concorde silhouette graphics. It also features British Airways 'Speedmarque' logos in chrome on the front wings, a Q by Aston Martin wing badge with black enamel infill, and jet black-painted Civil Aviation Authority aircraft identifier numbers and bespoke inspection plaques signed by Aston Martin Lagonda President and Group CEO Andy Palmer and British Airways Chairman Álex Cruz.
The DBS Superleggera Concorde is limited to ten examples and is on sale at Aston Martin Bristol in the UK.