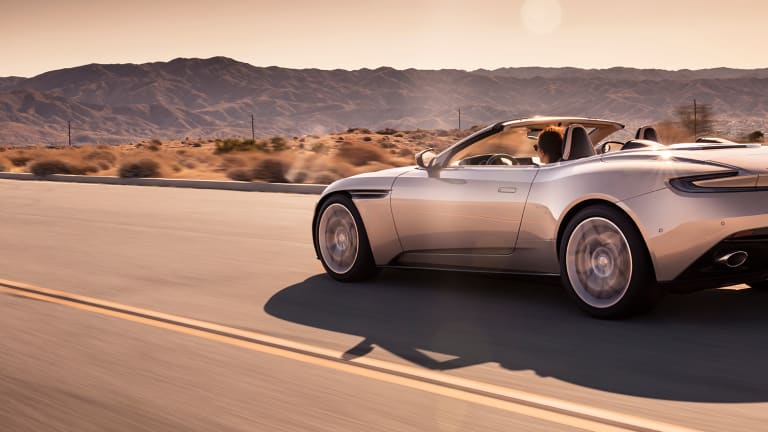 Aston Martin reveals the DB11 Volante
Quite possibly one of Aston's most beautiful modern convertibles to date.
There's just something that gets lost in the design of a car when it's translated into a convertible, but that's not the case with the new Aston Martin DB11 Volante. The droptop supercar is as stunning as its hardtop sibling and is lighter and more rigid than the now-discontinued DB9 Volante due to its new bonded aluminum structure.
Though it doesn't have it's signature V-12, the new Volante will be powered by the impressive 503-hp 4.0L twin-turbo, which was built by AMG and has been specially tuned by Aston Martin. Performance can be adjusted through the car's 3-stage powertrain and chassis modes, which work seamlessly with the the 8-speed paddle shift transmission and limited-slip differential with dynamic torque vectoring.
The biggest thing to note here isn't the power, but that Aston has been able to craft a jaw-dropping convertible, which features an 8-layer fabric roof that's designed with the latest in acoustic and insulation materials to give you the best ride possible whether the top is up or down. The roof takes 16 seconds to fully retract and can be operated through the key and works up to 31 mph. Trunk space has also been improved as it gains 20% more volume than the the DB9 Volante. 
The first deliveries of the DB11 Volante are set for the first quarter of 2018.
From $216,495, astonmartin.com