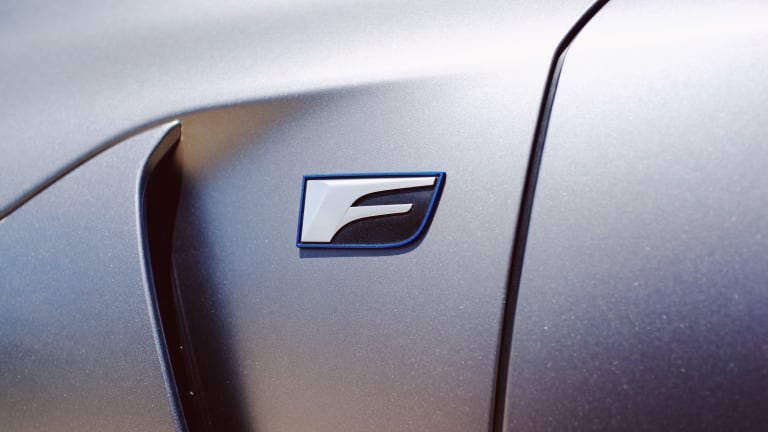 A look back at ten years of Lexus' high-performance F line
Since 2008.
Ten years ago, Lexus introduced Japan's answer to performance badges like AMG and BMW M with the 2008 IS F. The four-door sedan packed a 5.0L V8 that produced over 400 hp and it could hit a top speed of 170 mph. This began an all-new chapter for the brand, allowing it to compete head to head with BMW and Mercedes' already well-established performance brands. Ten years later, the company has produced multiple "F" cars, including the brand's first-ever supercar, the $375,000 LFA. Produced in a limited run of 500 cars, the LFA became an instant legend when it was introduced and it was the only time its parent company (Toyota) had produced a V10 for a production car, a car that continues to inspire and influence the F line to this day.
Since the LFA, we've seen Lexus release the RC F, GS F, a new F Sport trim, and the LC500, which is not an F car per se, but uses the same 5.0L V8 found in many of those cars and you could even say it's the spiritual successor to the LFA. That's quite the body of work for a manufacturer that's only been at this for ten years and to commemorate these accomplishments, Lexus released a limited 10th anniversary edition of the RC F and the GS F.
In the US, 240 examples of the RC F ($80,810) will be available and there will be only 100 of the GS F ($84,350). The cars are painted in a matte Nebula Grey finish and are equipped with polished black BBS wheels with blue-painted Brembo brakes. The blue accents continue into the interior of the car, where the seats are upholstered in blue leather with white accents. Blue carbon fiber and blue suede also accent the dash and of course, both cars will be powered by the company's 467-hp V8 powerplant. As for speed, the RC F will get from 0-60 in 4.4 seconds and will reach a top speed 168 mph while GS F gets to 60 mph in 4.5 and will hit the same 168 mph top speed.
Sure, you could make the comparisons to AMG and M all day, but there's just something about the F-badged models that Germans can't replicate. Maybe it's their focus on Japanese craftsmanship or the incredibly deep level of engineering that goes into every car. Whatever the case may be, Lexus F has definitely held its own over the last ten years and has made a mark on a category that is no longer exclusive to the Europeans. 
If the level of performance and quality the brand has achieved in just ten years is any indication of where the Lexus is going next, we can only imagine what they're working on. Could it be an LC F or their first F-badged SUV/Crossover? We'll have to wait and see to find out what their next move is, but you can bet we'll be chomping at the bit to get into the driver's seat.