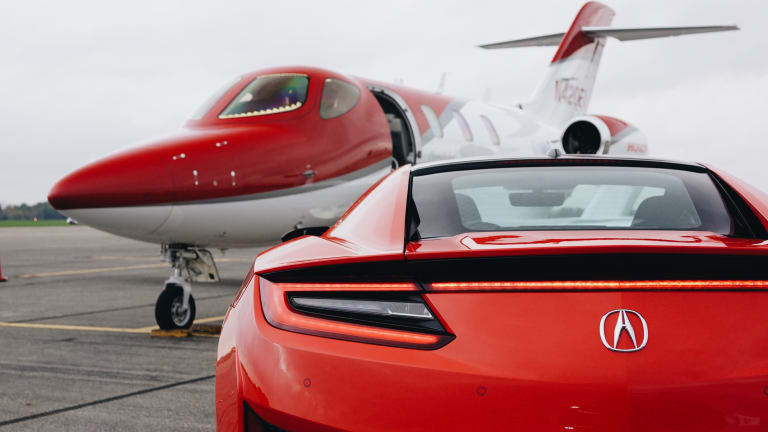 Honda's Crown Jewels: A look at the HondaJet and the Acura NSX
A duo of halo product that has no rival.
When it comes to halo product, Honda is firing on all cylinders. Not only have they brought back the NSX ($156,000), but they've also grown their extensive vehicle range to include their very own aircraft. And by aircraft, we're talking about the HondaJet ($4.9 million), a full-on private airplane that can reach a distance of a little over 1,400 miles before refueling. That's more than enough range to enjoy a little beach time in LA and then you can jet off to Vancouver for a double black diamond run. 
One thing that's immediately evident between the two is the razor-sharp focus on the overall experience. The interior of the NSX was designed to be the most comfortable in its segment, an element that follows the company's "man-machine" approach to create the perfect rhythm between the car and its driver. 

As you step on the gas, the rumble of that 573-hp, twin-turbo V6 unleashes a sonic fury while three electric motors engage to create their SH-AWD system that puts all that power to all four wheels. This system works together to allow it to hit a top speed of 191 mph, but is also a comfortable daily driver that can instantly transform into a supercar at a moment's notice. 
Much like its land-based cousin, the HondaJet sits low and looks fast while standing still. There's an undeniable display of Honda's performance DNA on show here and as you step into the cabin, a surprisingly spacious interior greets you with four seats that have enough legroom to fully stretch out and there's even a fully featured lavatory. 
One of the plane's biggest features rests on the wings of the HondaJet and are unlike anything else on the market. Developed in collaboration with GE, the patented Over-the-Wing Engine Mount takes the engines away from the fuselage allowing for more cabin space, more cargo space, and a much quieter cabin. Couple this with a Natural Laminar Flow wing and nose and you've got a plane that has lower drag when traveling at high speeds and class-leading fuel efficiency. 
Takeoff is quick and comfortable, the HondaJet has a takeoff distance of just 4,000 feet and can climb rapidly at a rate of 3,990 feet per minute. As you reach its cruising altitude, which maxes out at 43,000 feet, the plane speeds along smoothly and effortlessly at speeds of up to 422 knots (485 mph). Landing is an equally smooth experience and taxiing around the tarmac feels less like a plane and more like driving a car around a parking lot. 
Not one automaker can say they've got a supercar with the plane to match, let alone two products that complement each other so well. On one hand you've got the Acura NSX, an innovative and powerful continuation of an automotive icon and on the other you've got the HondaJet, a newcomer in the space, but one that could easily be an icon in its own right. And let's not forget about the rest of the Honda lineup, the only things left for them to conquer are spaceships and submersibles, but for now we'll more than happily take the jet or the car. 
For more on the HondaJet visit hondajet.com
For more on the Acura NSX visit acura.com and nsxinsiderexperience.com