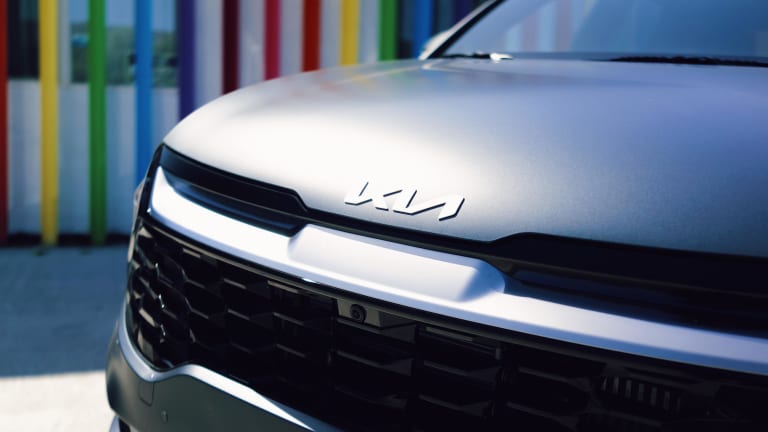 Kia's bold design strategy continues to push the brand forward with the 2023 Sportage
The Sportage has been fully transformed with a dramatic new look.
Kia has been making some incredibly aggressive moves with its styling and if you look at the brand's sales in recent years, customers are taking notice in a big way. And that continues with the Sportage, the company's longest-running nameplate, which has been breaking sales records for the past few months. While it calls the subcompact SUV segment home, the new Sportage undergoes a major size upgrade, coming in at a little over seven inches longer than the previous model. Modern and rugged, the "Opposites United" design language is executed in such a way that feels significantly more premium and futuristic. 
The massive, almost wraparound grille is flanked by "boomerang" daytime running lights that brings a bold and sporty look to the front end while the character lines and muscular shape of the rear give it a confident look that indicates that this is much much more than a comfortable people mover. One of our favorite trims, the X-Pro, puts its off-road capability front and center with 17" matte black off-road wheels that are wrapped in B.F. Goodrich all-terrain tires, an optional two-tone roof, protective black cladding, and LED fog lights with optional LED Projector headlights. 
As for performance, the SUV is available with a 2.5L inline-four with a new eight-speed automatic, 187 hp, FWD, and AWD is available with an optional Active AWD system. Atop the lineup is their hybrid model that comes equipped with a 226 hp turbocharged powertrain that combines a 1.6L engine with a 44kW electric motor, allowing for close to 40 mpg and more than 500 miles of range to keep a nice and wide cushion before your next fill up. For those looking for an ultra-efficient commuter, a PHEV is also available with a 13.8kWh battery that has an all-electric range of over 30 miles. 
While there's a model for everyone, we found ourselves favoring the "X-Pro" model with its off-road-focused enhancements that included multi-terrain drive modes to quickly adjust the car's performance for trail-ready scenarios. With its additional 8.3" of ground clearance, the X-Pro easily made its way through the dirt, steep inclines, and even steeper declines. There's even a 360-degree camera that comes in handy for those situations where you need to maneuver around tight obstacles or rocky terrain. 
Step inside and you'll find the available 12.3" Panoramic Screens, which combine into a curved unit that gives you a total of 25" of screen real estate. The instrument panel side displays all the usual speed information as well as features like an optional Blind-Spot assistance screen that gives you virtual side mirrors so you can always have another set of eyes to safely merge into the next lane. The second screen gives you all your infotainment data as well as Apple CarPlay and Android Auto, which come standard on every model. 
The car can be configured with an extensive array of premium features such as a Harman Kardon audio system, wireless charging, 4G LTE hotspot connectivity, and there's even integration with your favorite virtual assistants. Interior comfort has also been enhanced with features like ventilated and 8-way power front seats, which are exclusive to the X-Pro Prestige Trim. There are even USB ports conveniently located on the back of the seats to easily charge devices in the second row and you'll find a coat hanger and an integrated hook to keep loose items organized and easily accessible. 
With models like the EV6 (above) and the Sportage, the bold design strategy has been an undeniable success for the Korean automaker. And most impressive is the value proposition the company offers with all of these models. The new Sportage starts at $25,990 in its base trim while the very well-equipped X-Pro Prestige can be all your's for $36,790. All in all, the radically rethought Sportage offers a smart mix of performance, technology, and luxury in an exciting (and thoroughly practical) package that is very competitive with its fellow competitors in and beyond its price range.
---
From $25,990, kia.com