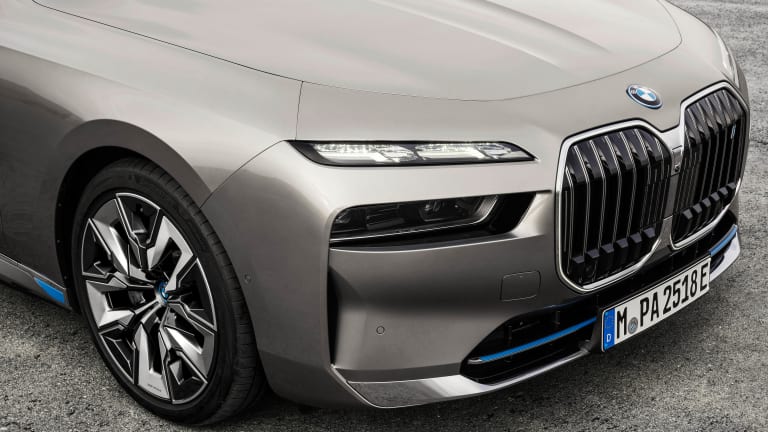 BMW takes its flagship sedan into the EV era with the all-new 7 Series
The sedan will be available in both electric and gas models.
The seventh-generation BMW 7 Series has been unveiled and the flagship sedan will be available in both gas and EV flavors. The 2023 BMW will launch with three models: a 3.0L TwinPower Turbo inline-six, a 4.4L TwinPower Turbo V8 with xDrive, and for the first time ever, an all-electric model with up to 310 miles of range. The flagship i7 xDrive60 will now be the range-topping model, producing 536 hp and 549 lb-ft of torque, allowing for the full-size luxury sedan to get from 0-60 in just 4.5 seconds. 
When it comes to charging, fast charging is available at up to 195kW when plugged into a DC fast charger. The new 7's styling is both futuristic and familiar blending classic BMW's classic design elements while looking to the future with details like the slim daytime running lamps, which can be specified with Swarovski crystal headlights, both of which flank a jumbo-sized kidney grille with illuminated surrounds. 
The interior of the car is where things get truly interesting as it boasts the most high-tech cabin you've ever seen in a production BMW. Surrounding the plush seating are an entire array of displays that includes a BMW Curved Display up front and what is bound to be one of the most talked-about features, an optional 31.3" 8K touchscreen display with Amazon Fire TV built-in to stream all your favorite content. This can be paired with a Bowers & Wilkins Diamond Surround Sound system with optional in-seat bass drivers for a full-on cinematic experience for your rear-seat passengers. 
Pre-orders for the i7 are available now. 
---
From $119,300 (i7 model), bmwusa.com