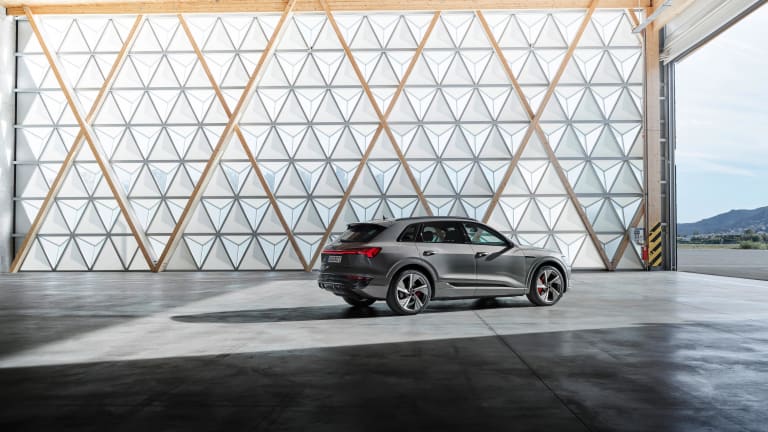 The Audi e-tron is becoming the Q8 e-tron for the 2023 model year
The new name also brings updated styling and a boost in battery capacity and performance.
For the 2023 model year, the Audi e-tron is getting a new name: the Audi Q8 e-tron. The new name also identifies the car as the top of the e-tron SUV/crossover lineup and the name also brings a number of enhancements both inside and out. The exterior has a bold new front and rear end design and on the S line package, the Singleframe grille is matched to the body color. On the performance front, the Q8 will be offered with three drivetrain options: a 250kW model with 305 miles (313 for Sportback) of range (WLTP), a 300kW model with up to 361 miles (372 miles for Sportback) of range (WLTP), and a 370kW model with up to 306 miles (318 for Sportback) of range (WLTP). 
Charging performance has also received a boost with an increase to 150 kW in the lower-end models and up to 170kW on the higher end models. This translates to 10-80% in just half an hour, which is about 260 miles of WLTP-rated range. The Q8 e-trons also feature an air-spring suspension standard for enhanced ride comfort, adjusted air-spring tuning for improved maneuverability in the corners, new recycled options for the interior trim, high-resolution displays, remote parking technology, and optional Digital Matrix LED headlights. 
The Q8 e-tron will be available in the US at the end of April 2023.
---