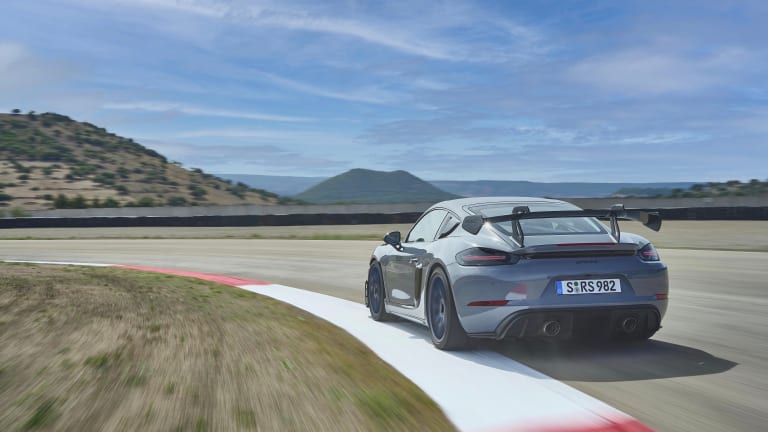 Porsche unveils the long-awaited 2022 718 Cayman GT4 RS
The new model uses the very same engine found in the 911 GT3.
Porsche enthusiasts have a new 718 Cayman to lust after with the launch fo the GT4 RS. The new model shares its engine with the 911 GT3, making for a powerful Cayman that can rev up to 9,000 rpm, producing 493 hp and 331 lb-ft of torque. Improving the car's performance is a whole host of exterior upgrades that include air intakes behind the side windows, revised rear quarter panel side intakes, an aerodynamically optimized underbody, rear diffuser, and a fixed rear wing with a swan-neck attachment.
This all adds up to 25% more downforce than the track-only 718 Cayman GT4, helping it stay planted as it achieves a 0-60 time of 3.2 seconds and a top speed of 196 mph. It will also be equipped with a seven-speed dual-clutch PDK transmission, CFRP front fenders, a CFRP hood, a lightweight rear glass window, and lightweight door panels with fabric door opening loops. The car will also be joined by a 718 GT4 Clubsport model that takes all these features to the track in a lightweight customer racing car.  
The 2022 GT4 RS will be available next summer.
---
From $141,700, porsche.com