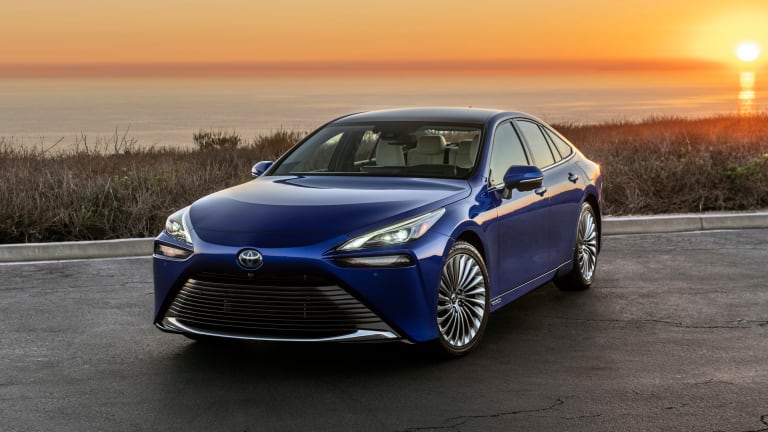 Toyota offers up a sleek, hydrogen-powered alternative to EVs with its second-generation Mirai
Upgraded looks, performance, and everything in between.
Toyota has gone in an entirely new direction with the new design of the second-generation Mirai and they're hoping this radical redesign will get customers interested in hydrogen vehicles. Set to release later this month, the new Mirai has a sleek new exterior that is much more sporty and coupe-like while featuring the latest in the company's fuel cell technology, which gets a 30% boost in range. Drivers will be able to travel for up to 402 miles (XLE model) with a full tank of compressed hydrogen gas and the only emission to come out of the car is water. 
The interior has been upgraded with all the latest tech and luxury from Toyota with SofTex synthetic leather, LED ambient lighting, digital rearview mirrors, and an array of digital displays. These digital displays include an 8-inch digital gauge cluster, a 12.3" touchscreen center infotainment display, and you've got access to both CarPlay and Android Auto for smartphone connectivity. Additional features include a head up display, Toyota Safety Sense, a 14-speaker JBL audio system, a Bird's Eye View Camera with Perimeter Scan, Overhead 360-degree View, and Curb View. 
The new Mirai will be available later this month and customers will receive up to $15,000 of complimentary hydrogen fuel.
---
From $49,500, toyota.com