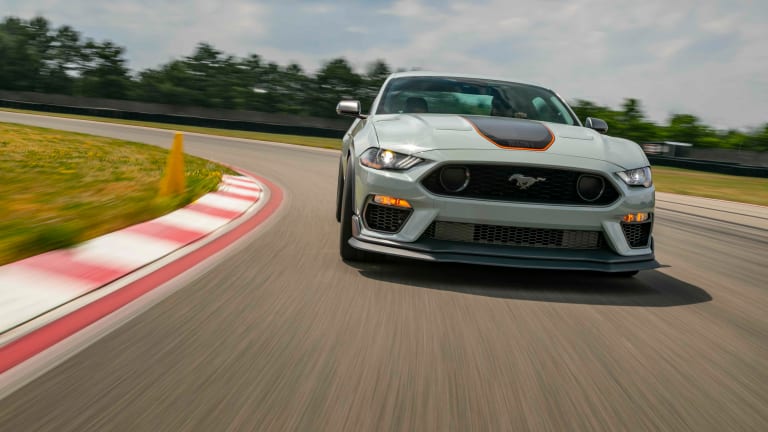 Ford brings back the Mach 1 as a new limited edition
The Mach 1 returns after 17 years.
One of the most famous versions of the Mustang is returning next spring with the reveal of the Mach 1. The new model will arrive next year as a limited edition with an all-new front end, Ford Performance components from the Mustang Shelby GT350 and the GT500, and a specially-tuned 5.0L V8. The V8 produces 480 hp and 420 lb-ft of torque and can be coupled with a Tremec six-speed manual, which is sourced from the GT350 and features a rev-matching system, an oil cooler system from the GT350, and a twin-disc clutch and short-throw shifter from the Mustang GT. 
A variety of equipment will also be available such as a Handling Package, which is exclusive to the six-speed version. This will include a larger front splitter, front wheel lip moldings, a low-gloss Magnetic swing spoiler with a Gurney flap, and GT500 rear tire spats. Additional features include a 10-speed SelectShift automatic with an upgraded torque converter, 19" Tarnished Dark-painted aluminum wheels, a leather, aluminum-accented interior with a Dark Spindrift instrument panel, a white cue ball shift knob, and the latest MagneRide calibration for improved handling. 
Available Spring 2021.