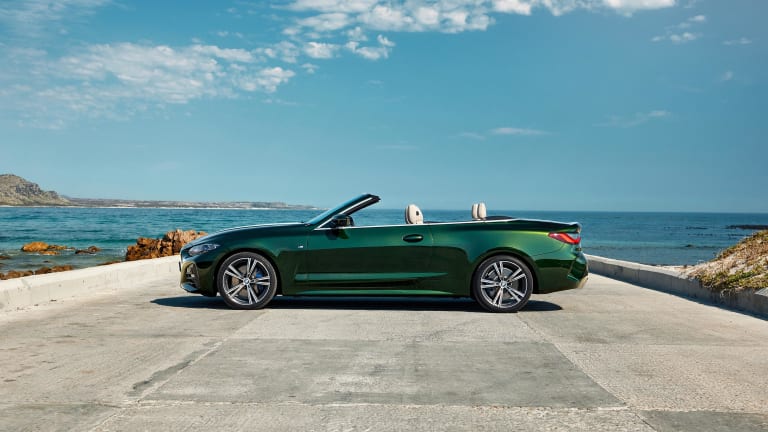 BMW reveals the 2021 4 Series Convertible
Less roof. More grille.
The new 4 Series Convertible is here and yes, it's got that controversial new grille and it swaps the hardtop for a lightweight soft-top roof. 40% lighter than the previous generation's hardtop, the roof was designed for optimal aerodynamics and noise reduction and insulation helps speed up the heating of the cabin in colder conditions. It also adds an extra bit of headroom and opening and closing the top only takes 18 seconds and can be operated at up to 31 mph. 
Power options include a 2.0L four-cylinder that produces 255 hp and 295 lb-ft of torque, allowing for a 0-60 time of 5.9 seconds and a limited top speed of 155 mph or 130 mph depending on the wheel and tire combo. The M440i models boast inline-six engines with 382 hp and 369 lb-ft of torque, allowing for a 0-60 time in five seconds flat and the same top speeds as the 2.0L. The M440i also comes in xDrive all-wheel-drive. 
Additional features include a 48V mild-hybrid system for the M440i models, an optional M Sport suspension, standard Launch Control, advanced driver assistance systems, BMW's Intelligent Personal Assistant system, iDrive 7, Apple CarPlay and Android Audio compatibility.
Available March 2021. 
From $53,100, bmwusa.com