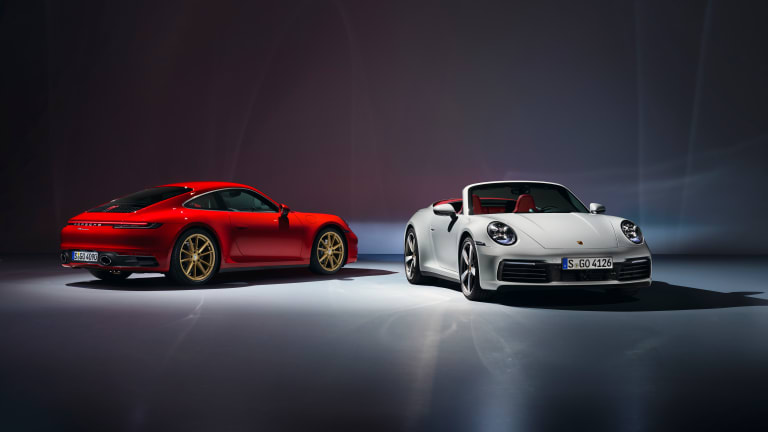 Porsche reveals the entry-level 2020 911 Carrera
The new model will hit dealerships early next year.
Porsche introduces its entry-level 911 with the reveal of the 911 Carrera and 911 Carrera Cabriolet. The two models join the S and 4S models and are powered by a 3.0L flax six engine that delivers 379 hp and 331 lb-ft of torque. Both models are equipped with a standard 8-speed PDK automatic transmission. As for performance, the 911 Carrera gets from 0-60 in 4.0 seconds (4.2 in the Cabrio) and when equipped with the Sport Chrono Package, the time is lowered to 3.8. Top speed is 182 mph for the 911 Carrera and 180 for the Carrera Cabriolet. 
Both models will feature Porsche's PASM suspension system with its electronically variable damping system and two drive modes, 19" front and 20" rear wheels, a water-detecting Wet Mode that can adjust the car's stability control and anti-lock brake systems, and the latest Porsche Communication Management system with a 10.9" touchscreen display. 
The 2020 911 Carrera and 911 Carrera Cabriolet are set to hit dealers in early 2020. 
From $97,400, porsche.com