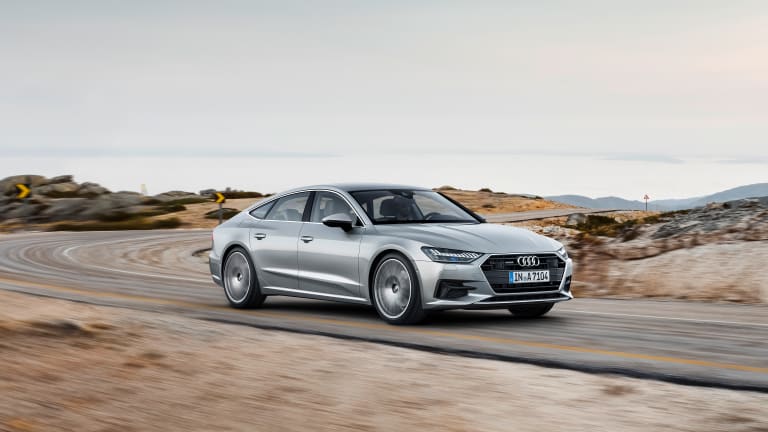 Audi's four-door coupe gets an all new look
The new model gets concept car looks and a whole host of new technology.
Sharper and more chiseled than ever before, the new A7 takes styling cues from Audi's Prologue concepts and translates those ideas into production form. The end result is a bolder and sleeker exterior that still maintains the car's coupe-like profile, which made the A7 a stand-out model in the overall product line. 
The new exterior styling starts upfront with the car's singleframe grille, which can be flanked by three headlight options that accent the car's long engine hood. Sharp creases along the side of the car add to the A7's athletic build and the rear end is tapered like a yacht and features a flat light strip with a taillight detail that features 13 vertical segments. 
As you head into the interior, the cabin greets you with a high-tech space complete with Valcona leather options and a peppering of displays that dominate the dashboard and the center console. On the technology front, you'll find features like an Audi AI button that can automatically maneuver the car in and out of parking and garage spaces and those features can be operated right from your smartphone. 
When it comes to power, all of the A7 engines will have a mild-hybrid system to increase efficiency and the car will first launch with a 3.0 V6 TFSI that produces 340 hp and 368 lb-ft of torque. That engine will get you from 0-62 in 5.3 seconds and has a top speed of 155 mph. 
No word yet on when the A7 will hit the American market, but Germany will see their first next-gen A7s this coming February.