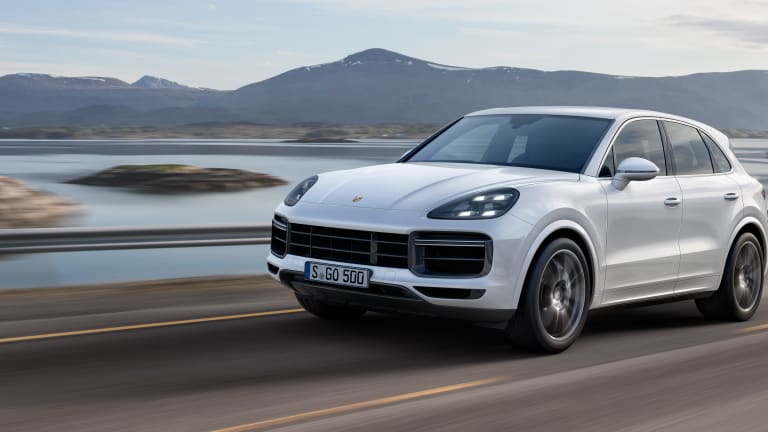 Porsche brings more power and even more torque with the next-gen Cayenne Turbo
The 4.0L V8 will produce 550-hp and 567 lb-ft of torque.
Porsche is following up the recent reveal of the next-generation Cayenne with the true star of the range, the Cayenne Turbo. Powered by a 4.0L V8, the Turbo model will produce 550-hp and 567 lb-ft of torque, which will get the speedy SUV from 0-62 in 4.1 seconds and will reach a top speed of 177 mph. With the Sport Chrono Package equipped, you'll be able to get from 0-62 in just 3.9 seconds. 
Looks-wise, the Turbo will have its own exclusive grille, a Porsche Dynamic Light System with LED headlights, 21-inch Turbo wheels, widened wheel arches with painted wheel arch trims, and twin tailpipes.It will also be the first SUV with an adaptive roof spoiler to increase downforce and aid in braking at higher speeds. That will be joined by Porsche Surface Coated Brakes, which are standard in the Turbo. 
Other performance enhancements include optional rear-axle steering, optional roll stabilization, and a new three-chamber air suspension that has six available ride heights and five new driving modes to adjust the car to a variety of conditions.
The Cayenne Turbo will be available later this year in Europe and will hit US showrooms in the fall of 2018.