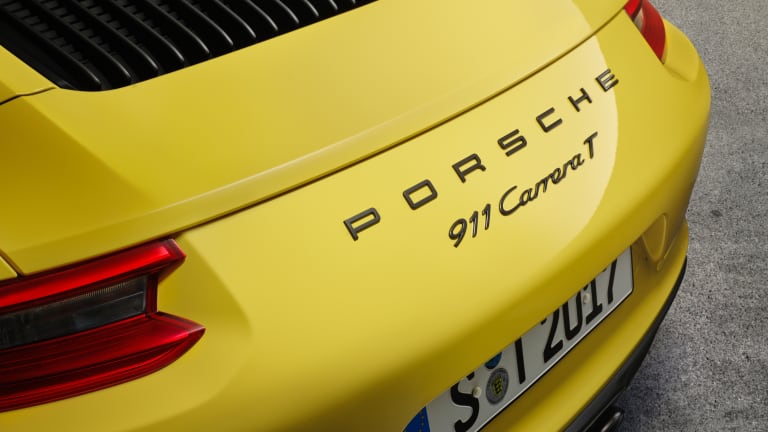 Porsche revives the 911 Carrera T
The purist's Porsche from 1968 returns.
Porsche has been placing a large focus on driver-focused cars and the latest model to continue that theme is a revival of the Carrera T nameplate from 1968. The new version will be the lightest model in the 911 Carrera range and will feature a number of upgrades that won't be available in the standard 911. Some of those features include PASM Sport Suspension with a .39-inch lower ride height, a shortened gear lever, Sport-Tex seat material, and optional rear-axle steering. 
To keep things light, Porsche revised the rear windshield and rear side windows with lightweight glass and door opener loops replace the standard door handles inside the car. Power will come from a twin-turbo flat-six that produces 370 hp and 339 lb-ft of torque and it's paired with a six-speed manual transmission. 
0-60 happens in 4.3 seconds and it can reach a top speed of 182 mph. If the automatic, paddle shift PDK system is specified, 0-60 will happen in four seconds flat while on its way to a slightly slower yet still very fast top speed of 180 mph. 
The 2018 911 Carrera T will hit US dealers in March 2018. 
$102,100, porsche.com