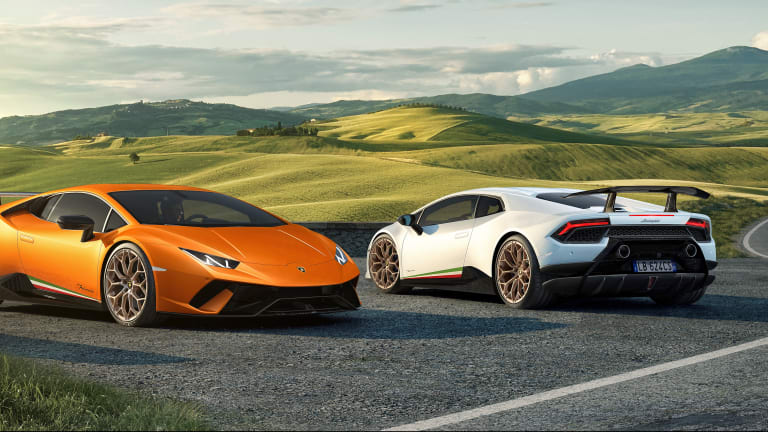 Lamborghini's newest Huracán uses its most powerful V10 to date
640-hp of naturally aspirated, asphalt-annihilating awesomeness.
The Huracán might be slotted below the Aventador, but this car is every bit as impressive as its flagship sibling and then some. The Huracán Performante isn't just fast, the car set a new production car record around the Nürburgringmanaging to record a lap time of 6:52.01. 
This is all due to a new array of aerodynamic upgrades and the most powerful V10 that Lamborghini has ever produced. The 5.2L naturally aspirated V10 puts out 640-hp that allows for a 0-62 time of 2.9 seconds and a top speed of more than 201 mph. 
The Aerodinamica Lamborghini Attiva developed specifically for the Performante enhances stability and gives it 750% more downforce than the standard coupe. It also drops a significant amount of weight with the use of Forged Composite in the front and rear spoiler, engine bonnet, and rear bumper and diffuser. This all combines for a total of 88 lbs in weight savings.  
The Huracán Performante will arrive at dealers this summer.
$274,390, lamborghini.com