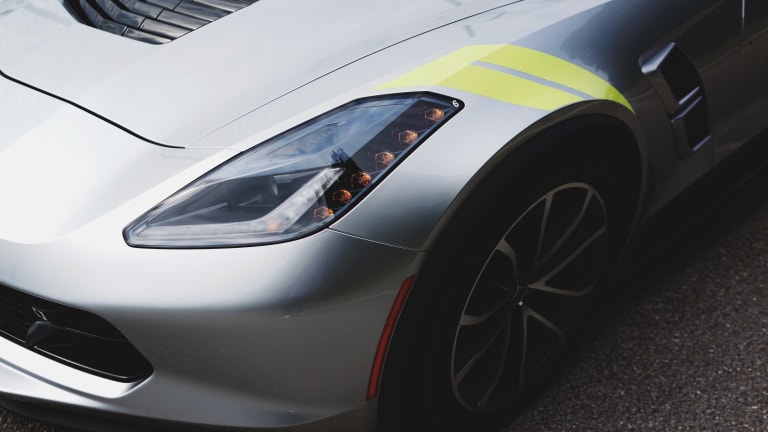 A look at Chevrolet's $66,000 Supercar
460-hp of Euro-fighting, American muscle.
What's got a 460-hp V8, costs $66,000, and has a 0-60 time comparable to a Ferrari California? You might guess European, but as you can see this is American muscle we're talking about and the Chevrolet Corvette is not shy when it comes to power. 
At first sight, you'll notice the Grand Sport isn't your average 'Vette. The aerodynamic kit is lifted right from its flagship sibling, the Z06, but look closer and you'll see the signature hash marks and dual scoops that are a nod to the Grand Sport's heritage. 
So just how impressive is it off the line? Chevy has put some serious horsepower under the hood with an uprated 460-hp V8 that delivers a 0-60 time of 3.6 seconds. Though it's not quite as fast as the 2.9 seconds brought by the corner-devouring Z06, it's enough power to get it past the 0-60 times of the M4 and even the recent 911 R. 
Chevy really hit the sweet spot of power and performance with the specs of the Grand Sport. You get lighting-fast speed when you hit the pedal and as you eat through the miles you'll notice the car actually has quite a bit of poise and comfort with Magnetic Ride Control that allows the car to be a more than capable GT. 
Now, your hard earned money could get you a 911 or an M4, but none of these options will get you a big and brutal V8 or even a targa top for the same money. And while we'd be plenty happy with the either of the former options, the Grand Sport is one hell of a bargain you can't ignore. 
Cheat Sheet
2017 Corvette Grand Sport
Power: 6.2L V-8, 460 hp, 465 lb-ft torque
Performance: 0-60 in 3.6 seconds
Fuel efficiency: 17 City / 29 Highway
Price: From $66,445 ($70,445 for convertible)