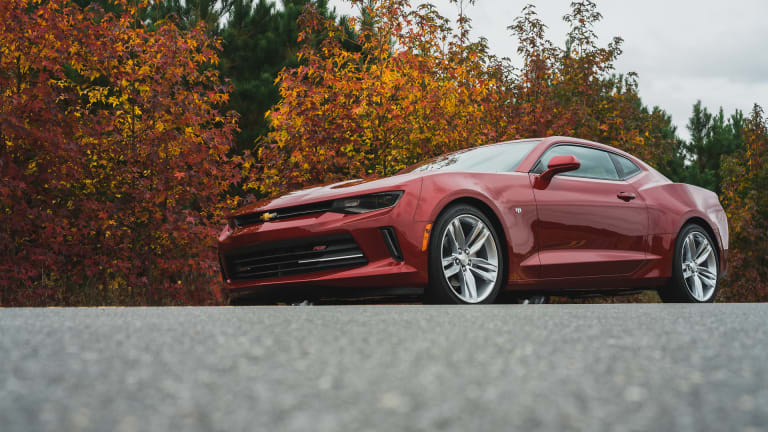 SPEC | The 2016 Chevrolet Camaro
We take a look at Chevy's new and improved, next-generation pony car.
The Chevrolet Camaro is one of the most important cars to wear the bowtie and for 2016 the iconic muscle car gets sharper, sleeker, and sportier. So how well is the Camaro prepped for battle against the next-generation Mustang? Quite well actually. At the entry level you can get a 6-speed manual transmission that is matched with a 2.0L four-cylinder turbo that produces 275-hp and 295 lb-ft of torque or move up the ranks to a 3.6L V6 that will give you a throaty 335-hp and 284 lb-ft of torque. 
At the top of the range is what all you aficionados will be lusting after, a 6.2L V8 that will rocket you from 0-60 in 4.0 seconds while producing 455-hp and 455 lb-ft of torque. Each model is available with the 6-speed transmission or an 8-speed automatic with paddle shifters. 
If you pay close attention you'll also notice that this generation's Camaro has become a bit more athletic than the previous model. Not only has it dropped 390 lbs, the car has been shortened and given a wider presence that gives it a sleeker, more aggressive look while also giving it a much more nimble feel when you're hitting those corners. 
CHEAT SHEET
Camaro LT (Four Cylinder)
Power: 2.0L Four-Cylinder Turbo, 275 hp, 295 lb-ft of torque
Performance: 0-60 5.4 seconds (5.5 with automatic)
Price: From $25,700
Camaro LT (V6)
Power: 3.6L V6, 335-hp, 284 lb-ft of torque
Performance: 0-60 in 5.1 seconds (5.2 with manual)
Price: From $28,190
Camaro SS
Power: 6.2L V8, 455-hp, 455 lb-ft of torque
Performance: 0-60 in 4.0 seconds
Price: From $37,295
Visit Chevrolet for more on the 2016 Camaro